Book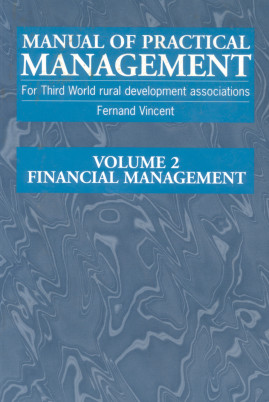 Manual of Practical Management for Third World Rural Development Associations
Financial management
Series: Manual of Practical Management
Published: 1997
Pages: 208

eBook: 9781780445427
Paperback: 9781853394058
Written in a simple and direct style useful for training administrators of small groups or associations and those who manage development projects. Volume 2 of this guide covers all aspects of financing an association. The second volume looks at all aspects of financial management for small development NGOs and associations. Financing an association and its activities is considered first including non-financial resources, fundraising and local financing. It suggests credit and savings as a way to reduce dependency on donors. It continues with how to organise savings and credit systems and how to manage money with accounting systems, budgets and cash flows. Financial management of small projects, accounting systems and profit and loss accounts are considered in more detail. Case studies and sample forms are given at the back. As in the first volume, the index aims to guide readers to the section they want using keywords. A glossary explains all the financial terms used. The book would be useful to small organisations with little experience of financial management or as a training resource. It is also a good introduction to some alternatives to donor funding.
INTRODUCTION

Part I

FINANCING AN ASSOCIATION

AND ITS ACTIVITIES

A. The non-financial resources at hand 2

B. Internal financial resources 3

C. Possibilities of local financing 4

D. International fund-raising 5

E. How to create flexible funds or revolving funds 12

F. Planning for the end of aid 14

ANNEXES

1.1 List of persons/organisations who could support the

Association

1.2 Criteria for selection of projects

1.3 Summary of a request for financial aid for a local project

1.4 Summary of a project report to be forwarded when requesting

financial aid

1.5 (a) Specimen agreement between an Embassy and a local association

to obtain finance for a small rural development

project

1.5 (b) Funds governed by Missions (Embassies) - Approval document

of a project

1.6 Profile of a report requesting funds or a rural development

project

1.7 List of addresses of donors

1.8 Technical characteristics of flexible funds (SIX'S)

1.9 Peasants of the Sahel innovate a new international aidsystem

Part II

SAVINGS AND CREDIT SYSTEMS

A. A local level savings system 18

B. Access to credit 22

C. Collateral / Guarantee 28

ANNEXES

II. 1 Specimen Promissory Note

11.2 Specimen Personal Guarantee

11.3 Questionnaire to obtain a RAFAD Guarantee

Part III

SIMPLE ACCOUNTS, BUDGETS AND CASH-FLOWS

A. The accounting system 30

B. Accounting documents 31

C. Keeping the books of accounts 32

D. The budget 34

E. Cash-flows 43

F. Management of stocks 46

G. Management of vehicles 49

ANNEXES

111.1 Specimen CASH Vouchers

(a) Receipt for payment made by the Association

(b) Receipt acknowledging payment made to the Association

(c) Cash voucher

111.2 Specimen BANK Documents

(a) Opening of a Bank Account

(b) Cheques: crossed, nominative, bearer

(c) Debit Note

(d) Credit Note

(e) Transfer Order

111.3 OOODS Account Vouchers

(a) Order Form

(b) Delivery Form

(c) Invoice

111.4 Example - a km. cost calculation of a Toyota van.

Part IV

MANAGEMENT OF SMALL PROJECTS

A. Management of a cereal bank 54

B. Management of a rice mill 60

ANNEXES

IV. 1 Determining the estimated stock of a Cereal Bank

IV.2 Calculation of profit for a Rice Mill

Part V

ACCOUNTING SYSTEMS

A. Keeping accounts 66

B. Accounting procedures 67

C. The accounting system of a development association 68

D. Accounting methods 69

E. Classification of accounts 71

Part VI

PROFIT AND LOSS ACCOUNTS

A. Preliminary balance sheet 76

B. The distribution of income and expenditure 78

C. Depreciation 82

D. Cost calculations 85

E. Profit and loss account 88

F. Final balance sheet 90

ANNEXES

VI. 1 Example of a Profit and Loss Account of an irrigation

project for providing water to 10 hectares of riceland

VI.2 Practical exercice "Accounting of a local association"

Part VII

FINANCIAL CONTROLS AND JUSTIFICATION

OF EXPENSES RELATED TO GRANTS

A. Justification of funds received from donors 94

B. Financial control / auditing 96

ANNEXES

VII.1 Specimen of Accounting Documents submitted to donors

(a) Coveting letter

(b) Detailed Financial Statement

(c) Summary of the financial assistance received

VII.2 Cash Control Form

VII.3 Bank Reconciliation Form

VII.4 Expense Account

VII.5 Inventory of Goods

VII.6 Controls to be effected within an Association

INDEX and GLOSSARY
Fernand Vincent
Linden Vincent is Professor of Irrigation at t he Department of Irrigation and Soil and Water Conservation, Wageningen Agricultural University, The Netherlands, and was formerly a Research Fellow at t he Overseas Development Institute.