Book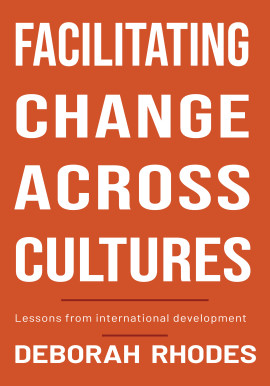 Facilitating Change Across Cultures
Lessons from international development
Published: 2022
Pages: 240

eBook: 9781788532105
Paperback: 9781788532099
Hardback: 9781788532082
As the international development sector responds to calls for decolonisation and localisation, how can facilitators work humbly, wisely and respectfully across cultures to support positive change?

This book asks readers to reflect on their own roles, values and power as facilitators in international and community development, in order to strengthen practice in cross-cultural or multi-cultural contexts.

Perceptions about change and facilitation vary between cultures, so facilitators need to understand the specifics in each context to inform practice. The book offers practical ways to facilitate change, which celebrate cultural expression and the value of diverse ideas. This supports increasing the voice and power of people in countries where values differ from those in donor countries, recognising that facilitators play a crucial translation role across cultures.

The chapters set out a framework to maximise shared understanding, trust and relevance of facilitation. They explore methods which maximise cultural expression and ways to undertake predominant methods differently. Recognising realities associated with power inequality, conflict and the obsession with 'results' in western cultures, the book offers suggestions to maximise culturally-savvy approaches. The book draws from research and evidence in various disciplines and complements other guides on political economy analysis and making change happen, by taking a specific focus through a cultural values lens.
1. Introduction

Part 1

2. Cultural values and change

3. Development and change

4. Implications for facilitators of the links between cultural values and change

5. Culturally attuned change facilitation

6. Principles for change facilitation across cultures

Part 2

7. Strategies for change facilitation across cultures

8. Selection of methods

9. Culturally attuned change facilitation methods

10. Contemporary facilitation methods through a cultural values lens

11. Cross-cultural conflict management methods

12. Evaluating change across cultures

13. Conclusion

Annex: Facilitation questions to consider through a cultural lens around a program cycle
'At a time when polarisation and nationalism are on the rise it is important to redouble efforts to enable cross-cultural dialogue and exchange. Deborah Rhodes' timely new book provides a rich source of practical ideas and experience which will be of great interest to those engaging in such vital endeavours.'
Professor Chris Roche, Director Institute for Human Security and Social Change, La Trobe University, Australia

'Deborah Rhodes explores the key role of collaboration in progressing positive change - fraught with power politics and vested interests - and unpacks strategies and approaches that are mindful of context-specific cultural dynamics. With every page I found myself nodding, highlighting passages to return to, checking my own practice and principles, and learning from her deep insights into facilitation of change processes.'
Sandra Kraushaar, Director, Pacific Islands, The Asia Foundation

'This book provides a timely, thoughtful, and much-needed framework for facilitating change across cultures, particularly in today's polarised world. As a development worker from the global south, I have tried to mediate conflicts in understanding, values, and priorities between the cultures of donors and those who are actually engaged in development processes. It was a joy to read explanations for what I had struggled with. The concepts explored will be a paradigm shift in the development sector.'
Gunawathy Fernandez, Independent Consultant and Former India Country Coordinator, Kindernothilfe (KNH)

'Practical! This book highlights the very core element of development – the people – who are shaped by culture, values and social norms. It provides a clear reference for development practitioners on how to engage in 'development conversations', by discussing the fundamentals and methods of effective facilitation across cultures for positive and inclusive change.'
Iwan Sriwidiyanto, Deputy Team Leader, Knowledge Sector Initiative, Jakarta, Indonesia
Deborah Rhodes is an international development practitioner, author, and trainer with 35 years of experience largely in Pacific and Asian countries, specialising in topics including working across cultures, capacity development, disability inclusion and strengths-based approaches.