Book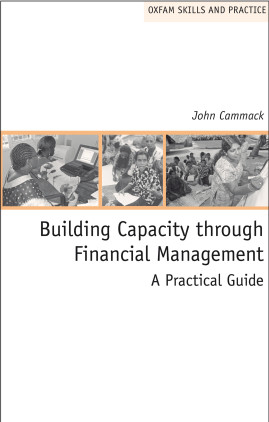 Building Capacity through Financial Management
Published: 2007
Pages: 148

eBook: 9780855986674
Paperback: 9780855985769
Much has been written about capacity building but little on how to use financial management to build capacity. Donors are increasingly requiring their non-profit beneficiaries to have sound financial systems before they will provide funds. This guide provides an overview of financial management and the practical tools that can help build the financial capacity of non-profit organisations. Using case studies to demonstrate good practice, this guide will offer practical advice in how to work with a partner organisation to build its financial capacity. It will also detail tools and techniques for using financial skills to improve organisational and programme management. The guide is intended for managers and trustees of non-profit organisations, providing tools and techniques for them to build their own financial system and for those assessing another organisation's financial capacity.
Acknowledgements vii

Introduction ix

Part 1: Linking Capacity-Building and Finance

1. Capacity-building and finance 2

2. Assessing financial management capacity 8

Part 2: Building Financial Management Capacity

3. Planning and budgeting 16

4. Accounts record-keeping 28

5. Financial reporting 33

6. Financial controls 39

7. External audit 51

8. Organisational aspects of financial management 59

Part 3: Moving Towards Sustainability

9. Reserves 78

10. Core costs 86

Part 4: Tools for Building Financial Management Capacity

11. 'Toolkit' for financial management capacity-building 94

12. Training for financial management capacity-building 102

Appendix A: Minimum financial requirements for growing

organisations 108

Appendix B: Review of financial systems 110

Notes 127

Glossary 128

Websites 131

Further reading 133

Index 135
John Cammack
John Cammack is a freelance adviser and consultant, trainer, writer and coach with international non-government organizations. He has previously worked as head of international finance at Oxfam UK and as a senior lecturer in accounting and financial management at Oxford Brookes University.