Book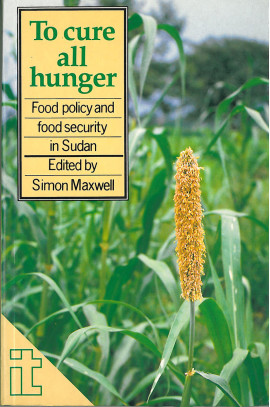 To Cure All Hunger
Food policy and food security in Sudan
Published: 1991
Pages: 264

eBook: 9781780443638
Paperback: 9781853390876
Few countries face as grim a prospect of food insecurity as the Sudan - bankrupt, at civil war, and ravaged by drought. To Cure All Hunger looks at the scope and the content of appropriate interventions, growth, income, and command over food security. A close study of the causes, dimensions and consequences of food insecurity in Sudan is instructive, not just for policy in that country but also for food insecurity analysis elsewhere. Studying an extreme case throws up challenges to the conventional wisdom which resonate across less difficult cases. The contributors to this volume bring a wide range of skills and many years' experience to the study. Their focus is mainly on north Sudan and not on the war-torn south. Nevertheless, they do indeed challenge the conventional wisdom, at least in Sudan.
9781780443638.000

1

9781780443638.001

17

9781780443638.002

31

9781780443638.003

65

9781780443638.004

82

9781780443638.005

101

9781780443638.006

130

9781780443638.007

164

9781780443638.008

175

9781780443638.009

207

9781780443638.010

223

9781780443638.011

234

9781780443638.012

248
Simon Maxwell Simon Maxwell was Director of the Overseas Development Institute (ODI) in London between 1997-2009. He previously worked overseas for ten years, in Kenya, India and Bolivia; and from 1981-1997 was a Fellow at the Institute of Development Studies, University of Sussex, latterly as Programme Manager for Poverty, Food Security and the Environment.
Bodenversalzung im Sudan und die Möglichkeiten der Bewässerung
Gebauer, Jens
Ebert, Georg
WASSERWIRTSCHAFT, Vol. 95 (2005), Iss. 3 P.47
https://doi.org/10.1007/BF03252353
[Citations: 0]
Wild Plants, Mushrooms and Nuts
Nutrients and Bioactive Compounds in Wild Fruits Through Different Continents
Fernández-Ruiz, Virginia
Morales, Patricia
Ruiz-Rodríguez, Brígida María
Isasa, Esperanza Torija
2016
https://doi.org/10.1002/9781118944653.ch8
[Citations: 1]
Food Policy Old and New
Maxwell, Simon
Slater, Rachel
Development Policy Review, Vol. 21 (2003), Iss. 5-6 P.531
https://doi.org/10.1111/j.1467-8659.2003.00222.x
[Citations: 94]
The Arid Frontier
Proactive Planning and Interactive Management in Arid Frontier Development
Bruins, Hendrik J.
Lithwick, Harvey
1998
https://doi.org/10.1007/978-94-011-4888-7_1
[Citations: 8]
Linking Supply Chain Management and Food Security: A Concept of Building Sustainable Competitive Advantage of Agribusiness in Developing Economies
Murti Mulyo Aji, Joni
Rondhi, M.
Addy, H.S.
E3S Web of Conferences, Vol. 142 (2020), Iss. P.06005
https://doi.org/10.1051/e3sconf/202014206005
[Citations: 2]
Wild Fruits: Composition, Nutritional Value and Products
The Utilization of Multi-Purpose Wild fruits in Central Sudan, because gum belt is Part of Central Sudan
Elnasri, Hagir Mahagoub
2019
https://doi.org/10.1007/978-3-030-31885-7_9
[Citations: 0]
Ziziphus spina-christi (L.) Willd.: a multipurpose fruit tree
Saied, Amina Sirag
Gebauer, Jens
Hammer, Karl
Buerkert, Andreas
Genetic Resources and Crop Evolution, Vol. 55 (2008), Iss. 7 P.929
https://doi.org/10.1007/s10722-007-9299-1
[Citations: 61]
Role of Women in the Household Economy, Food Production and Food Security
Kotzé, Derica A.
Outlook on Agriculture, Vol. 32 (2003), Iss. 2 P.111
https://doi.org/10.5367/000000003101294352
[Citations: 16]
Wild Fruits: Composition, Nutritional Value and Products
The Role of Wild Fruits in Mitigating Hunger
Al Faki Adam, Izzeldien Abdelhamid
2019
https://doi.org/10.1007/978-3-030-31885-7_1
[Citations: 0]
Tightening the Constraints: Famine, Relief and Gender Relations
Kynch, Jocelyn
Gender, Technology and Development, Vol. 1 (1997), Iss. 1 P.47
https://doi.org/10.1080/09718524.1997.11909840
[Citations: 1]