Book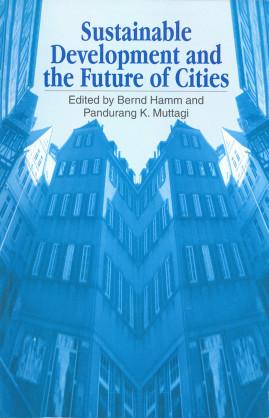 Sustainable Development and the Future of Cities
Published: 1998
Pages: 304

eBook: 9781780446073
Paperback: 9781853394522
This book looks at how an increasingly urban world can also be a world where the ideas of sustainable development are put into practice. The book looks first at concepts, theories and problems of sustainable development - from a developed and a developing world perspective. It then considers regional perspectives, with contributions from Southeast Asia, North America and Eastern Europe. Finally the book presents local answers to the problems of sustainable urban development, with examples from Iran, Poland, Canada, Finland and elsewhere. This book will be of interest to urban planners, those involved in furthering the Agenda 21 debates, and all those concerned about the future of cities.
Introduction

Bernd Hamm and Pandurang K. Muttagi 1

Part i

Concepts, Theories, Problems

Understanding Sustainable Development

William E. Rees 19

Sustainable Development—A Third World Perspective

P.K. Muttagi 43

Sustainability Problems and Historical Transitions—A

Description in Terms of Changes in Metabolism and

Colonization Strategies

Marina Fischer-Kowalski and Helmut Haberl 57

The New Politics of Environmental Governance: Sustainable

Development on the Way to the Next Millennium?

On-Kwok Lai 77

Challenges to Sustainability: Risk Perceptions by 'Lay People'

and Experts

Nikolai Genov 101

Property Rights as a Tool for Desirable Development

Peter Marcuse 121

The Future of Mega-cities: Planning Implication for a More

Sustainable Development

Salah El-Shakhs 133

Part II

Regional Perspectives

The New Politics of Environmental Governance Environmental

Sustainability and Life in the City: A Challenge for the Design

Professions

Charles Middleton 147

Local Self-Government for Sustainable Development: The

Philippines

Alex B. Brillantes 159

Sustainable Development in Developing Societies: The Case of

Planning Sustainable Urban Development under

Post-communist Conditions

Miroslaw Grochoivski 167

Sustainable Development or Loss of Cultural Urban Identity?

Ljubinko Pusic 185

Part III

Local Answers

Sustainable Urban Management: Opportunities and Risks of

Information Technology

Ulrike Weiland and Lorenz Hilty 197

Sustainable Communities: Planning for the 21st Century

William E. Rees and Mark Roseland 203

Sustainable Development in Developing Societies: The Case of

Isfahan Region

Asghar Zarrabi 223

Sustainable Development in Urban Design: A Northern Aspect

Aarne Tarutnaa 231

Katowice—Economic Structure and Sustainable Development

Irena Jedrzejczyk Inge Osthoff 261

The Messages of Folk Architecture

Jadranka Veselic-Bruvo 271

Ecological Urban Development: An Experiment in Active

Learning

Bernd Hamm 283
Pandurang Muttagi
Pandurang K. Muttagi was, before retirement, professor of sociology and head of the Urban Research Unit at the Tata Institute of Social Science, Bombay, India.
Bernd Hamm Bernd Hamm is professor of sociology and director of the Centre for European Studies, University of Trier, Germany.
Sustainable development demands dialogue between developed and developing worlds
Plessis, Chrisna Du
Building Research & Information, Vol. 27 (1999), Iss. 6 P.378
https://doi.org/10.1080/096132199369219
[Citations: 11]
The Undeliverable Vision: Problems and Prospects of Motorisation in Asia
Dimitriou, Harry T.
Ernst, John P.
Competition & Change, Vol. 5 (2001), Iss. 1 P.73
https://doi.org/10.1177/102452940100500103
[Citations: 3]
Sustainability Matters in National Development VisionssEvidence from Saudi Arabia's Vision for 2030
Alshuwaikhat, Habib M
(2017)
https://doi.org/10.2139/ssrn.2934426
[Citations: 1]
Socially-critical Environmental Education in Primary Classrooms
Facing the Future
Edwards, Jane
2016
https://doi.org/10.1007/978-3-319-02147-8_2
[Citations: 1]
Participatory Environmental Health Research in Aotearoa/New Zealand: Constraints and Opportunities
Witten, Karen
Parkes, Margot
Ramasubramanian, Laxmi
Health Education & Behavior, Vol. 27 (2000), Iss. 3 P.371
https://doi.org/10.1177/109019810002700311
[Citations: 10]
Schooling for Sustainable Development in Europe
Education for Sustainable Development (ESD): A Critical Review of Concept, Potential and Risk
Scott, William
2015
https://doi.org/10.1007/978-3-319-09549-3_4
[Citations: 4]