Book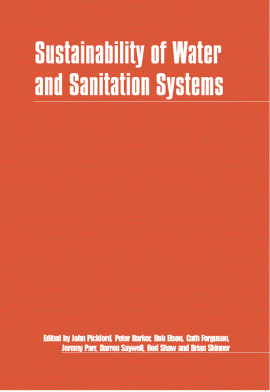 Sustainability of Water and Sanitation Systems
Published: 1996
Pages: 166

eBook: 9781780443522
Paperback: 9781853393396
This book comprises forty papers from the 21st WEDC conference, held in Kampala in 1995, on the theme of sustainability of water and sanitation systems. Developing countries experience special difficulties in maintaining systems in full working order, so maintenance is a recurring topic. Other wide-ranging topics include the sustainable development of underground and surface water resources, and sustainable hygiene education to enable communities to derive long-term benefits from new or improved facilities.
PREFACE ix

SECTION A: GUIDELINES ON CART DESIGN 1

A1: INTRODUCTION 3

A1.1 FEATURES OF GOOD CART DESIGN 3

A1.2 RECOMMENDATION FOR MINIMUM DESIGN STANDARDS 4

A1.3 LAYOUT OF MANUAL 5

A1.4 REASONING BEHIND THE GUIDELINES 6

A2: CART CONSTRUCTION 7

A2.1 CART CAPACITY 7

A2.2 CART DIMENSIONS 9

A2.3 LAYOUT OF TWO-WHEEL CARTS (Figure 2.2) 11

A2.4 LAYOUT OF FOUR-WHEEL CARTS 13

A2.5 CONSTRUCTION OF TWO-WHEEL CARTS 14

A2.6 DESIGN OF A STEEL BASE-FRAME (Figure 2.3) 15

A2.7 CONSTRUCTION OF BODY 18

A2.7.1 Body Made From Sheet Steel 18

A2.7.2 Steel Frame With Wooden Body (Figure 2.6) 23

A2.8 WOODEN BASE FRAME AND BODY 25

A2.9 BAMBOO OR TIMBER POLE CONSTRUCTION (Figure 2.8(i) and (ii)) 26

A2.10 COMPARISON OF DIFFERENT METHODS OF CONSTRUCTION 29

A2.11 DESIGN OF A HINGED TAILGATE (Figure 2.9) 31

A2.12 ATTACHMENT OF DRAWPOLE (Figure 2.10) 33

A2.13 OTHER TYPES OF CART BODIES 34

A2.14 DESIGN OF 4-WHEEL CARTS (Figure 2.13) 38

A2.15 BRAKE DESIGN 42

A2.16 SUSPENSION 47

A3: WHEEL/AXLE ASSEMBLY 53

A3.1 BASIC FACTORS 53

A3.1.1 Tyres 53

A3.1.2 Rolling Resistance 54

A3.1.3 Friction and Wear in Bearings 56

A3.1.4 Wheel and Bearing Loads 58

A3.1.5 Comparison of the Performance of Different Types of Wheel/Axle

Assemblies 58

A3.2 TYPES OF WHEELS 61

A3.2.1 Scrap Rims and Axles 61

A3.2.2 Pressed and Rolled Rims 68

A3.2.3 Wheels for Manufacture in Small to Medium Size Workshops 70

A3.2.4 Fabricated Steel Wheels 73

A3.2.5 Wooden Wheels 76

A3.3 HUB AND AXLE 80

A3.3.1 Machined Hub and Axle Assembly (Figure 3.15) 80

A3.3.2 Fabricated Hub and Axle Assembly (Figure 3.16) 85

A3.3.3 Axle Assemblies with Bush Bearings 88

A3.3.4 Live-Axle Assembly (Figure 3.18) 91

A3.3.5 Other Hub/Bearing Options 98

A3.4 COMPARISON OF WHEEL/AXLE ASSEMBLIES 102

A3.4.1 Comparison of Wheel/Axle Assemblies for Ox-Carts (Table 3.2) 102

A3.4.2 Comparison of Wheel/Axle Assemblies for Light, Single-Donkey

Carts (Table 3.3) 107

A3.5 PUNCTURE-RESISTANT TYRES 109

A4: COMPARISON AND SELECTION OF CART DESIGNS 115

A4.1 RANGE OF OPTIONS 115

A4.2 SELECTION OF PREFERRED CART DESIGN 118

A4.2.1 Recommended Design 118

A4.3 ALTERNATIVE DESIGNS 123

A4.3.1 Alternative Designs of Wheel/Axle Assemblies 123

A4.3.2 Intermediate Designs 125

A4.4 RECOMMENDATIONS FOR FURTHER DEVELOPMENT 128

A4.4.1 Cart Construction 128

A4.4.2 Wheel and Axle Assemblies 128

A4.4.3 Brakes 130

A4.4.4 Suspension 130

APPENDIX 1: SOURCES OF FURTHER INFORMATION 132

SECTION B: GUIDELINES ON HARNESSING 135

B1: INTRODUCTION 136

B2: HARNESSING OF OXEN 138

B3: HARNESSING OF DONKEYS 143

B4: RECOMMENDATIONS FROM WORKING GROUP ON HARNESSING AND

HITCHING 150

SECTION C: MANUFACTURE, MARKETING AND MAINTENANCE OF CARTS 155

C1: INTRODUCTION 157

C2: POSSIBILITIES FOR IMPROVEMENTS 160

C3: RECOMMENDATIONS FROM WORKING GROUP ON CART MANUFACTURE 164

C4: RECOMMENDATIONS FROM WORKING GROUP ON MARKETING 166

C5: RECOMMENDATIONS OF WORKING PARTY ON MAINTENANCE AND

REPAIR 169

SECTION D: GUIDELINES ON CREDIT 171

D1: INTRODUCTION 173

D2: TYPES OF CREDIT SCHEME 174

D3: ESTABLISHMENT AND ADMINISTRATION OF CREDIT PROGRAMMES 178

SECTION E: GUIDELINES ON TESTING OF CARTS AND DESIGN STANDARDS 183

E1: INTRODUCTION 185

E2: RECOMMENDATIONS FROM WORKING GROUP ON TESTING AND

STANDARDS 187
John Pickford
John Pickford (1927-2006) founded the Water Engineering and Development Centre at Loughborough University 40 years ago.