Book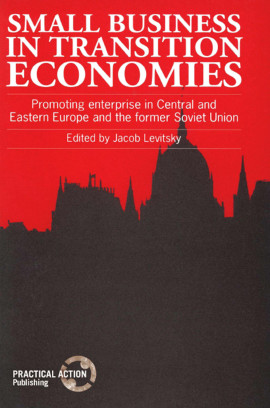 Small Business in Transition Economies
Promoting enterprise in Central and Eastern Europe and the former Soviet Union
Published: 1996
Pages: 208

eBook: 9781780440941
Paperback: 9781853393433
With the collapse of the communist central planning regimes throughout Eastern and Central Europe and the vast area of the former Soviet Union there has been a trend toward building up a significant private sector and encouraging dynamic growth in the emerging markets of national economies. The donor agencies have responded by developing aid programmes to help in the creation of a strong private sector and more specifically to help in the development of small and medium enterprises (SME). This book looks at some of the experiences of SME projects carried out in the various countries in the region. Four themes considered of central importance to SME development * financial support, technical and management services, favourable policies conducive to SME development and the involvement of international donor agencies * are examined.
Acknowledgements v

List of Tables and Figures ix

List of Diagrams X

Introduction 1

PART I: PONDS, PROTEIN AND THE POOR 7

Chapter 1: Aquaculture in Bangladesh 9

The setting: rural Bangladesh 9

Fisheries in Bangladesh 20

Aquaculture 23

The region 27

The study methodology 28

Organization of the material 30

Chapter 2: Markets, entrepreneurs and intervention 33

Introduction: the policy context 33

Aquaculture: state, market and community 35

Rural markets 36

Aquaculture markets - 41

Entrepreneurship and innovation 43

Intervention issues ' 46

PART II: THE FISH TRADING NETWORK-TRAINS;

BUSES AND RICKSHAWS 51

Introduction: an overview of the trading system 53

Chapter 3: Finding the silver seed 55

Wild hatchling collection 55

Hatchery production 60

Fingerling production 64

Chapter 4: Wholesalers at the station 71

The station market 71

Chapter 5: Into the rural hinterland 77

Fingerling traders and transportation 77

Management of food fish ponds 86

Chapter 6: Netting the catch 93

The decline of traditional fisherfolk 93

Food fish markets and traders 101

PART III: POVERTY, MARKETS AND PROJECTS 113

Chapter 7: Risky transactions 115

The power of knowledge 115

Risk management 117

Credit, prices and profits 120

Interlocked markets 124

Chapter 8: Social preconditions of markets-the test

case of cultured fish 127

Aquaculture and agrarian structure 127

Markets, trust and morality 131

The absence of formal law 136

Winners and losers 143

Chapter 9: Improving opportunities for the poor 147

Possibilities considered 147

'Off the page and into the pond' 153

'Indigenizing' extension: the extension trader experiment 154

Appendices

1 Wild hatchling collection 167

2 The hypophysation process 168

3 Techniques of fingerling transportation 169

4 Water quality in the carrying vessels 173

5 Station trading data (seasonal distribution by species) 176

6 Price data 181

Glossary 185

Specialist terms 187

Bibliography 189

Index 195
Jacob Levitsky
Jacob Levitsky is a development consultant based in the UK, and was formerly Small Enterprise Advisor for the World Bank in Washington DC.
Internationalisation and SME development in transition economies: an international comparison
Smallbone, David
Piasecki, Bogdan
Venesaar, Urve
Todorov, Kiril
Labrianidis, Lois
Journal of Small Business and Enterprise Development, Vol. 5 (1998), Iss. 4 P.363
https://doi.org/10.1108/EUM0000000006800
[Citations: 17]
Case Studies as a Teaching Tool in Management Education
Gap Between Theory and Practice in Management Education
Garo, Elona
2017
https://doi.org/10.4018/978-1-5225-0770-3.ch014
[Citations: 1]
Strategy evolution in Central and Eastern European pharmaceutical firms 1992-2005
Langley, Amanda
Fallon, Grahame
Kakabadse, Nada K.
Strategic Change, Vol. 18 (2009), Iss. 1-2 P.59
https://doi.org/10.1002/jsc.839
[Citations: 2]
The Impact of Cultural Values on the Development of the Cultural Industry: Case of the Kente Textile Industry in Adanwomase of the Kwabre East District, Ghana
Asibey, Michael Osei
Agyeman, Kwasi Osei
Yeboah, Vivian
Journal of Human Values, Vol. 23 (2017), Iss. 3 P.200
https://doi.org/10.1177/0971685817713282
[Citations: 5]
Business Education and Ethics
Gap Between Theory and Practice in Management Education
Garo, Elona
2018
https://doi.org/10.4018/978-1-5225-3153-1.ch019
[Citations: 0]