Book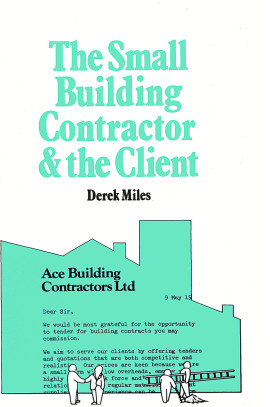 Small Building Contractor and the Client
Published: 1980
Pages: 272

eBook: 9781780445878
Paperback: 9780903031677
Getting and keeping clients is top priority for the successful building contractor. This book, the third and final volume in the series, shows how small contractors can get established and run their business satisfactorily.
Acknowledgements 4

Preface 5

Chapter 1 Marketing and the Contractor 7

Chapter 2 Estimate or Guesstimate? 37

Chapter 3 Cost and Efficiency 54

Chapter 4 Purchasing 74

Chapter 5 Figuring it out 94

Chapter 6 Putting a Price on it 125

Chapter 7 Bidding Policy 171

Chapter 8 Taking Care 193

Chapter 9 The Builder and the Law 224

Chapter 10 The Contractor and the Client 245
Derek Miles
Dr Derek Miles is a Fellow of the Institution of Civil Engineers and the Chartered Management Institute, a Liveryman of the Worshipful Company of Engineers and a Freeman of the City of London.
Factors Affecting the Performance of Small Indigenous Contractors in Papau New Guinea
Wasi, Daniel
Skitmore, Martin
Construction Economics and Building, Vol. 1 (1970), Iss. 1 P.80
https://doi.org/10.5130/AJCEB.v1i1.2282
[Citations: 6]