Book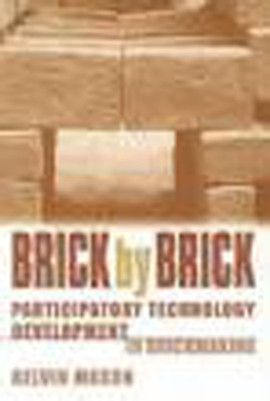 Brick by Brick
Participatory technology development in brickmaking
Published: 2001
Pages: 144

eBook: 9781780442655
Paperback: 9781853395291
This book reviews the theory and practice of technology transfer, change and development. It looks at definitions of Appropriate and Intermediate Technologies in the modern, global context. Based on the experiences of a project of working with brickmakers in Peru, Ecuador and Zimbabwe, the text looks at the elements that make up a successful technology transfer package. These elements are likely to include local research and development, training, access to capital, marketing and quality control. There is a brief overview of the technology involved in brickmaking. This includes an examination of energy efficiency and environmental issues. The brickmaking technologies adopted and adapted by the project in Peru are reviewed with a focus on the process of their development principles and ways of working, such as participation and participatory technology development, are explored. The relationship between producers and those seeking to assist them is examined: how alliances are formed, what the best communications are and what monitoring and evaluation strategies to employ. How the needs of women will be addressed. The main body of the text is illuminated by the inclusion of interviews, anecdotes and articles from people working in the field. The quest is to establish some guiding principles and practices for technology development projects. Ultimately the guidebook is a practical and interesting references for project managers, decision makers and fieldworkers.
FOREWORD

1. BACKGROUND: ITDG AND BUILDING MATERIALS PRODUCTION

1.1 ITDG, its mission, strategy and approach

1.2 The Shelter Programme

1.3 Reasons for working with small-scale brickmakers

Energy and the environment

1.4 Encouraging innovation and technology development

1.5 The purpose of this guidebook

2. INTRODUCTION: PARTICIPATION, SHELTER AND BRICKS

2.1 Participation in technology transfer and development

2.2 The shelter crisis

2.3 Why specifically brick production?

3. THE TECHNOLOGY TRANFER AND DEVELOPMENT PROJECT

3.1 Whys and wherefores

3.2 The objective

3.3 The situation in Peru

Housing and brick production

3.4 The situation in Ecuador

Housing and brick production

4. BRICKMAKING, THE TECHNOLOGY AND THE PRODUCT

4.1 A well known technology?

4.2 What exactly is a fired-clay brick?

5. TECHNOLOGY TRANSFER AND ITS ELEMENTS

5.1 Defining technology transfer

5.2 Elements of technology transfer

Other factors in the process

5.3 Illuminating case studies

(i) The brick industry and technology in Malaysia

(ii) Village-industry pottery in Ghana

6. APPROPRIATE TECHNOLOGY

6.1 In search of a working definition

6.2 ITDG's Appropriate Technology

7. PARTICIPATORY TECHNOLOGY DEVELOPMENT

7.1 Enhancing knowledge, skills and choices

7.2 Ownership through participation

7.3 PTD as a project tool

(i) Degrees of participation

(ii) Stages in technology development

(iii) Building technological capability

7.4 Participatory conclusion

8. THE EXPERIENCE OF ITDG IN ZIMBABWE

8.1 The historical context8.2 ITDG's intervention

The adoption of the coal-fired clamp

8.3 The process of technology transfer

Successes and feedback

Searching for the elements of success

8.4 Conclusions - but not the end of the story

9. THE APPROACH OF ITDG IN PERU

9.1 The draft technology transfer plan

The Ten Commandments...

9.2 Getting to grips with the technology

The state of the art of data collection

9.3 Methodology for measuring the energy used to fire clay bricks

(i) Gathering data

(ii) Analysing data

(iii) Qualifying the results

(iv) Presenting findings

(v) Observations

10. THE HISTORY OF THE PROJECT

10.1 Working and learning together

The Ecuadorian perspective

10.2 Project results and conclusions

Training: getting it right

Sustainability: what next?

Technologies: four to consider

Environment: more to be done

Information dissemination: spreading the word

10.3 Monitoring technological change

Promising practices

(i) The benefits of fuel distribution

(ii) Complete fuelwood substitution

11. GUIDELINES FOR PARTICIPATIVE PROJECTS

11.1 Formulation: the project proposal and workplan

Finding the right donor

Accounting to the clients

Institutional allies

Achieving a workable proposal

11.2 Summary: consolidating guidelines

REFERENCES

FURTHER READING

(i) Participation, training and technology development

(ii) Brickmaking, building materials, shelter and energy

APPENDIX: Photocopiable monitoring form
Kelvin Mason
Kelvin Mason is a tutor on the MSc Architecture: Advanced Environmental and Energy Studies by distance learning at the Centre for Alternative Technology. Previously, he worked as a consultant engineer and manager on development projects in Africa, Latin America and Asia.
Hidden livelihoods?
Twyman, Chasca
Slater, Rachel
Progress in Development Studies, Vol. 5 (2005), Iss. 1 P.1
https://doi.org/10.1191/1464993405ps097oa
[Citations: 4]
Engineering and Sustainable Community Development
Why Design for Industry Will Not Work as Design for Community
Lucena, Juan
Schneider, Jen
Leydens, Jon A.
2010
https://doi.org/10.1007/978-3-031-79961-7_3
[Citations: 0]
Engineering and Sustainable Community Development
Listening to Community
Lucena, Juan
Schneider, Jen
Leydens, Jon A.
2010
https://doi.org/10.1007/978-3-031-79961-7_5
[Citations: 0]
Engineering and Sustainable Community Development
Lucena, Juan
Schneider, Jen
Leydens, Jon A.
2010
https://doi.org/10.1007/978-3-031-79961-7
[Citations: 11]