Book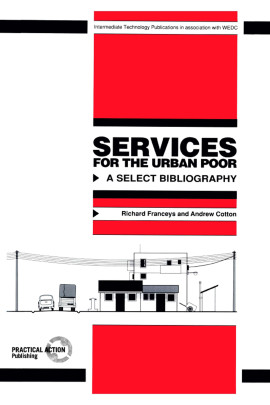 Services for the Urban Poor
A select bibliography
Richard Franceys, Andrew Cotton
Published: 1993
Pages: 100

eBook: 9781780444291
Paperback: 9781853391880
The result of a review of the literature on infrastructure design for urban low-income housing. Covers infrastructure planning; site preparation; drainage; roads and access; water supply; power supply; sanitation; solid waste management.
ACKNOWLEDGEMENTS vi

PREFACE vii

Chapter 1 BURIED PIPE DISTRIBUTION SYSTEMS

FOR SURFACE IRRIGATION 1

Chapter 2 DISTRIBUTION SYSTEM SELECTION 23

Chapter 3 SYSTEM PLANNING AND DESIGN 57

Chapter 4 HYDRAULIC DESIGN 75

Chapter 5 DESIGN CONSIDERATIONS FOR

COMPONENT STRUCTURES 99

Chapter 6 SYSTEM CONSTRUCTION 141

Chapter 7 POST-CONSTRUCTION ISSUES 167

Chapter 8 COST ANALYSIS OF BURIED PIPE

DISTRIBUTION SYSTEMS 175

Chapter 9 TRENDS IN THE UPGRADING AND

DEVELOPMENT OF BURIED PIPE SYSTEMS 189

APPENDICES 191

REFERENCES 217
Richard Franceys
Dr Richard Franceys is Course Director of the Global Water Policy and Management MSc programme, part of Cranfield's Water Management Masters programme.