Book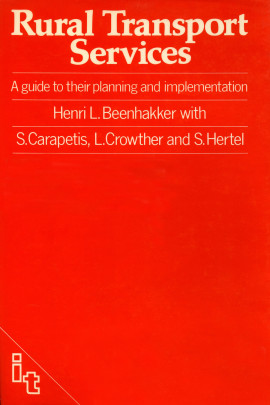 Rural Transport Services
A guide to their planning and implementation
Published: 1989
Pages: 334

eBook: 9781780443164
For policymakers and planners, it draws on a wide range of sources, developing methodologies for cost evaluation of spot improvements, stage construction of water crossings, and analysis of the organizational framework for decentralized road maintenance.
Summary, including International Threats and Opportunties

and the International Seed Treaty

Context

Some NGO/CSO activities since 1996

Maintaining crop diversity

Conserving domestic animal diversity

Restoring marine diversity

Challenging the introduction of GM fish

Developing agro-ecotourism

Facilitating farmers' voices in the biotech debate

Challenging perverse patents

Protecting farmers' rights

Contamination of centres of diversity by GMOs

Monitoring IPR encroachment

Agenda for Action

Genetically modified organisms

Trade

Intellectual property rights and biopiracy

Concentration of power

Genetic resource conservation and development

Conclusion
MOBILITY AND INEQUALITY IN RURAL NIGERIA: THE CASE OF OFF-ROAD COMMUNITIES
PORTER, GINA
Tijdschrift voor Economische en Sociale Geografie, Vol. 88 (1997), Iss. 1 P.65
https://doi.org/10.1111/j.1467-9663.1997.tb01584.x
[Citations: 17]
These roads were made for walking? The nature and use of rural public transport services in Garut Regency, West Java, Indonesia
Johnston, D.C.
Singapore Journal of Tropical Geography, Vol. 28 (2007), Iss. 2 P.171
https://doi.org/10.1111/j.1467-9493.2007.00289.x
[Citations: 6]