Book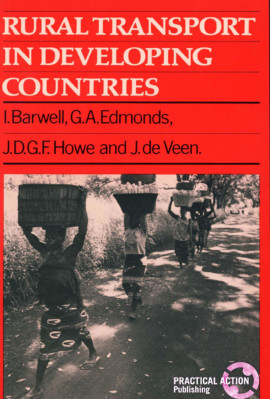 Rural Transport in Developing Countries
Published: 1985
Pages: 160

eBook: 9781780445830
Paperback: 9780946688968
An important and wide-ranging survey of transport policies in developing countries, illustrated by nine case-studies.
ILO FOREWORD 1

EDITORS' INTRODUCTION 2

PARTI —TRANSPORT PATTERNS 5

CHAPTER l — Small holder Transport Requirements in

Malaysia 5

CHAPTER 2 — Rural Transport in India 21

CHAPTER 3 — Rural Transport in Northern Nigeria 34

CHAPTER 4 — Transport in Two Kenyan Villages 48

PART II — TRANSPORT MEANS 61

CHAPTER 5 — Means of Transport in Western Samoa 61

CHAPTER 6 — Improving Tranditional Means of Transport

in the Republic of Korea 71

CHAPTER 7 — Means of Transport in the Philippines 77

PART HI —TRANSPORT POLICIES 93

CHAPTER 8 — Transport in a Rural Community in Tanzania 93

CHAPTER 9 — Bangaladesh Rural Transport Study 109

CHAPTER 10 — Transport for Small Farmers in Kenya 118

PART IV — SUMMARY 127

CHAPTER 11 — Conclusions and Policy Implications 127

CHAPTER REFERENCES 139

SELECTED BIBLIOGRAPHY 144
Ian Barwell
Ian Barwell is a transport and infrastructure consultant, business development adviser, and freelance writer on transport and development. He is also an associate at Hifab International and freelance consultant for IBAR Business Services
Geoff Edmonds
In 2005, Geoff Edmonds is Programme Coordinator at ILO/ASIST-Asia Pacific, Bangkok, Thailand
These roads were made for walking? The nature and use of rural public transport services in Garut Regency, West Java, Indonesia
Johnston, D.C.
Singapore Journal of Tropical Geography, Vol. 28 (2007), Iss. 2 P.171
https://doi.org/10.1111/j.1467-9493.2007.00289.x
[Citations: 6]
Roads to Poverty Reduction? Exploring Rural Roads' Impact on Mobility in Africa and Asia
Bryceson, Deborah Fahy
Bradbury, Annabel
Bradbury, Trevor
Development Policy Review, Vol. 26 (2008), Iss. 4 P.459
https://doi.org/10.1111/j.1467-7679.2008.00418.x
[Citations: 76]
Integrated Rural Accessibility Planning (IRAP)
Sarkar, Ashoke K.
Ghosh, Dipak
Progress in Development Studies, Vol. 8 (2008), Iss. 3 P.241
https://doi.org/10.1177/146499340800800303
[Citations: 4]
Development Theory, Regional Politics and the Unfolding of the 'Roadscape' in Ladakh, North India
Demenge, Jonathan
Journal of Infrastructure Development, Vol. 7 (2015), Iss. 1 P.1
https://doi.org/10.1177/0974930615578498
[Citations: 5]
Transport geography
Rimmer, Peter J.
Progress in Human Geography, Vol. 12 (1988), Iss. 2 P.270
https://doi.org/10.1177/030913258801200206
[Citations: 7]
Roads and development = environment and energy?
Menezes, Deborah C.
Ruwanpura, Kanchana N.
Progress in Development Studies, Vol. 18 (2018), Iss. 1 P.52
https://doi.org/10.1177/1464993417739173
[Citations: 0]
ACCESSIBILITY AND THIRD WORLD RURAL DEVELOPMENT: A Case Study of Sumatra
Cervero, Robert
Review of Urban & Regional Development Studies, Vol. 2 (1990), Iss. 2 P.125
https://doi.org/10.1111/j.1467-940X.1990.tb00019.x
[Citations: 2]
Multifunctional Roads
Demenge, Jonathan
Alba, Rossella
Welle, Katharina
Manjur, Kebede
Addisu, Alemu
Mehta, Lyla
Woldearegay, Kifle
Journal of Infrastructure Development, Vol. 7 (2015), Iss. 2 P.165
https://doi.org/10.1177/0974930615609482
[Citations: 10]
MOBILITY AND INEQUALITY IN RURAL NIGERIA: THE CASE OF OFF-ROAD COMMUNITIES
PORTER, GINA
Tijdschrift voor Economische en Sociale Geografie, Vol. 88 (1997), Iss. 1 P.65
https://doi.org/10.1111/j.1467-9663.1997.tb01584.x
[Citations: 16]