Book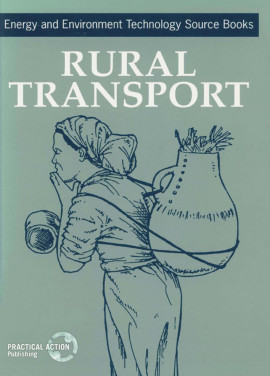 Rural Transport
Energy and Environment Technology Source Books
Published: 1996
Pages: 80

eBook: 9781780444284
Paperback: 9781853393457
This source book seeks to raise awareness and to provide information on how rural transport problems might be identified and addressed, focusing on women since they carry the main burden. The book highlights rural transport activities and needs, considers household and other agricultural transport needs. It also looks at improving local transport infrastructure and establishing transport services. It uses case study material to illustrate approaches and technologies.
INTRODUCTION 1

1 The importance of rural transport 3

Rural transport activities in the household 3

Domestic transport activities of women in a week 7

Reasons for different transport patterns 8

Rural transport needs 8

2 Identifying rural transport needs 12

Identifying needs 12

Transport and marketing 15

3 Addressing rural transport needs 19

Modes of transport 19

People moving on foot 19

People carrying loads on foot 21

People using bicycles and tricycles to move around 24

Using bicycles, trailers, wheelbarrows and handcarts to move loads 27

Using animals for transport 30

Transport infrastructure 37

Transport services 41

Motorized transport services 41

Non-motorized transport services 43

Non-transport interventions to improve access 43

4 Considerations in addressing transport needs 46

Access to, and control of, means of transport 46

Affordability 48

Promotion and attitudes 49

Maintenance 52

Monitoring and evaluation 52

5 Case studies 54

Women saving time on transport for education in Burkina Faso 54

Makete integrated rural transport project in Tanzania 55

Promotion of animal traction technology in Zambia 56

Women health workers on bicycles in Zimbabwe 57

Mraru women's bus service in Kenya 58

Women cycling in southern India 59

Women fuelwood carriers in Ethiopia 61

Women's pottery groups in western Kenya 62

Development and testing of a hand-pushed water carrier in Nigeria 63

viii RURAL TRANSPORT

6 Checklist for identifying and acquiring a means of transport 65

Identifying possible means of transport 65

Acquiring a means of transport 66

REFERENCES, FURTHER READING AND CONTACTS 6
Drawing the road map to rural poverty reduction
Njenga, P.
Davis, A.
Transport Reviews, Vol. 23 (2003), Iss. 2 P.217
https://doi.org/10.1080/01441640309889
[Citations: 19]
Transport Services and Their Impact on Poverty and Growth in Rural Sub-Saharan Africa: A Review of Recent Research and Future Research Needs
Porter, Gina
Transport Reviews, Vol. 34 (2014), Iss. 1 P.25
https://doi.org/10.1080/01441647.2013.865148
[Citations: 69]
Transport planning in sub-Saharan Africa II
Porter, Gina
Progress in Development Studies, Vol. 8 (2008), Iss. 3 P.281
https://doi.org/10.1177/146499340800800306
[Citations: 19]
'I think a woman who travels a lot is befriending other men and that's why she travels': mobility constraints and their implications for rural women and girls in sub-Saharan Africa
Porter, Gina
Gender, Place & Culture, Vol. 18 (2011), Iss. 1 P.65
https://doi.org/10.1080/0966369X.2011.535304
[Citations: 75]