Book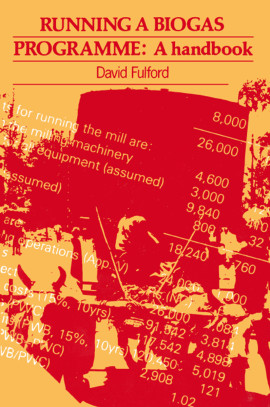 Running a Biogas Programme
A handbook
Published: 1988
Pages: 200

eBook: 9781780443119
Paperback: 9780946688494
Describes the designs and uses of biogas plants, with technical appendices, for domestic and community plants. Likely economic and social effects of biogas programmes are described from experience, and advice given in the problems of management.
David Fulford
David J. Fulford is a founding trustee of SKG Sangha, with nearly 40 years of experience of working as an expert in the biogas industry. He was part of a team that started the national biogas programme in Nepal, and led evaluations of the programmes that succeeded it.
BIOMETHANATION POTENTIAL OF ANIMAL FLESHING AND PRIMARY SLUDGE AND EFFECT OF REFRACTORY FRACTION OF VOLATILE SOLIDS
A., Thangamani
Rajakumar, Suseela
A., Ramanujam R.
Journal of Environmental Science for Sustainable Society, Vol. 3 (2009), Iss. P.29
https://doi.org/10.3107/jesss.3.29
[Citations: 3]
Anaerobic co-digestion of hazardous tannery solid waste and primary sludge: biodegradation kinetics and metabolite analysis
Thangamani, A.
Rajakumar, Suseela
Ramanujam, R. A.
Clean Technologies and Environmental Policy, Vol. 12 (2010), Iss. 5 P.517
https://doi.org/10.1007/s10098-009-0256-x
[Citations: 44]
Continuous Process anaerobic biogas production from poultry wastes
Nwafor, O. M. I.
Okorie, O. P.
International Journal of Ambient Energy, Vol. 26 (2005), Iss. 4 P.215
https://doi.org/10.1080/01430750.2005.9674992
[Citations: 2]
A review of mixing, design and loading conditions in household anaerobic digesters
Jegede, A. O.
Zeeman, G.
Bruning, H.
Critical Reviews in Environmental Science and Technology, Vol. 49 (2019), Iss. 22 P.2117
https://doi.org/10.1080/10643389.2019.1607441
[Citations: 16]
Feasibility study of biogas energy generation from refuse dump in a community-based distribution in Nigeria
Igbum, Ogbene G
Eloka-Eboka, Andrew C
Adoga, Sunday
International Journal of Low-Carbon Technologies, Vol. 14 (2019), Iss. 2 P.227
https://doi.org/10.1093/ijlct/ctz011
[Citations: 6]
Mesophilic and thermophilic biomethane production by co-digesting pretreated petrochemical wastewater with beef and dairy cattle manure
Siddique, Md. Nurul Islam
Sakinah Abd Munaim, Mimi
Zularisam, A.W.
Journal of Industrial and Engineering Chemistry, Vol. 20 (2014), Iss. 1 P.331
https://doi.org/10.1016/j.jiec.2013.03.030
[Citations: 31]
Engineering for Sustainable Human Development
Energy Services for Development
2014
https://doi.org/10.1061/9780784413531.ch14
[Citations: 0]
Biofuel Production Technologies: Critical Analysis for Sustainability
Biogas: An Effective and Common Energy Tool – Part I
Elangovan, Seethalaksmi
Pandian, Sathish Babu Soundra
S. J., Geetha
Joshi, Sanket J.
2020
https://doi.org/10.1007/978-981-13-8637-4_3
[Citations: 2]