Book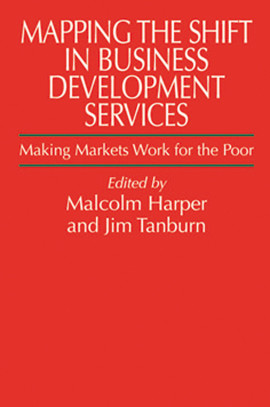 Mapping the Shift in Business Development Services
Making markets work for the poor
Published: 2005
Pages: 192

eBook: 9781780440835
Hardback: 9781853395901
Paperback: 9781853395918
Small enterprises not only need credit they also need many other services: training, advice, marketing, supplies, premises, accountancy, materials, technology and many others. Without them, credit alone may do no more than add the burden of debt to all the other problems entrepreneurs have to face. Governments and foreign donors have traditionally responded to these needs by trying to provide the services themselves. Despite or because of heavy subsidies, these services have been inadequate and of poor quality, and their main effect has been to 'crowd out' potentially more effective private suppliers. But policy makers are now learning that entrepreneurs are willing to pay the market price for quality services, and that small businesses in the private sector are the best source of services for other small businesses. The goal is to make markets work in business services as well as in other products. Business Development Services for Small Enterprise shows how to make markets really work, how to reduce dependence on donor agencies and illustrates critical issues, new findings and radical changes with a wealth of wide-ranging material. This is a key title for all B.D.S. practitioners.
9781780440835.000

1

9781780440835.001

11

9781780440835.002

22

9781780440835.003

27

9781780440835.004

35

9781780440835.005

47

9781780440835.006

56

9781780440835.007

67

9781780440835.008

77

9781780440835.009

84

9781780440835.010

90

9781780440835.011

100

9781780440835.012

113

9781780440835.013

126

9781780440835.014

140

9781780440835.015

147

9781780440835.016

153

9781780440835.017

163

9781780440835.018

171

9781780440835.019

180
Malcolm Harper
Malcolm Harper taught at Cranfield School of Management until 1995, and since then has worked mainly in India. He has published on enterprise development and microfinance. He was Chairman of Basix Finance from 1996 until 2006, and is Chairman of M-CRIL, the microfinance credit rating agency.
Jim Tanburn
Jim Tanburn is currently employed by the International Labour Organization in Geneva and is an advisor on small enterprise development internationally.
Donor-driven local economic development in peripheral areas of KwaZulu-Natal: The Gijima Programme
Marais, Lochner
Development Southern Africa, Vol. 27 (2010), Iss. 4 P.517
https://doi.org/10.1080/0376835X.2010.508583
[Citations: 4]
Financial and Market Integration of Vulnerable People
Whose vision counts? The formulation of vision in community forest enterprises
Tanaka, Hiroyuki
2015
https://doi.org/10.3362/9781780448879.010
[Citations: 1]
The global logic of development aid: projects for the landless poor
Leahy, Terry
Mahmoud, Amira
Development in Practice, Vol. 30 (2020), Iss. 1 P.125
https://doi.org/10.1080/09614524.2019.1668353
[Citations: 0]
Income generation, local economic development and community development: paying the price for lacking business skills?1
Marais, Lochner
Botes, Lucius
Community Development Journal, Vol. 42 (2007), Iss. 3 P.379
https://doi.org/10.1093/cdj/bsl021
[Citations: 11]