Book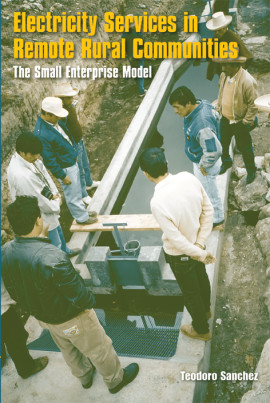 Electricity Services in Remote Rural Communities
The Small Enterprise Model
Published: 2005
Pages: 104

eBook: 9781780444840
Paperback: 9781853396205
This book describes the design and use of a particular management model for electricity services in isolated rural communities. This model was designed with the clear objective of efficient financial and technical management, taking into account the social and economic environment and the committed participation of the community.
The concept of private management is introduced, where a micro-enterprise is responsible for the running of the system and receives payment in exchange for the management of the service. A new tariff model for rural areas (the model of descending blocks) is used. Its application requires four important components: 1)The tariff scheme, the design of which is based on previous studies of socio-economic conditions and the development potential of electricity in the region. 2)The regulation of the use of electric energy, which highlights the responsibilities of the different actors and the activities that need to be performed for the system to function smoothly. 3) Contracts between the owner of the generating system and the service operator. 4) Contract between the service operator and the users
It is estimated that this model could be used successfully in other energy generating systems (diesel, solar, wind-powered) with small changes, especially to the tariff scheme.
9781780444840.000

1

9781780444840.001

13
Teodoro Sanchez
Teodoro Sanchez is the Technology and Policy Adviser for Energy, Practical Action. He is a mechanical engineer with 20 years' experience with Practical Action in Peru and Britain.
Designing a Low-Cost, Electricity-Generating Cooking Stove
Riley, P.
Saha, C.
Johnson, C.
IEEE Technology and Society Magazine, Vol. 29 (2010), Iss. 2 P.47
https://doi.org/10.1109/MTS.2010.937029
[Citations: 9]
Small Scale Wind Energy Market and Institutional Model for Nepal
Shrestha, Rakesh Yogal
Wind Engineering, Vol. 33 (2009), Iss. 2 P.109
https://doi.org/10.1260/030952409789141017
[Citations: 1]
Pico hydro – Reducing technical risks for rural electrification
Williams, A.A.
Simpson, R.
Renewable Energy, Vol. 34 (2009), Iss. 8 P.1986
https://doi.org/10.1016/j.renene.2008.12.011
[Citations: 77]
Engineering for Sustainable Human Development
Energy Services for Development
2014
https://doi.org/10.1061/9780784413531.ch14
[Citations: 0]