Book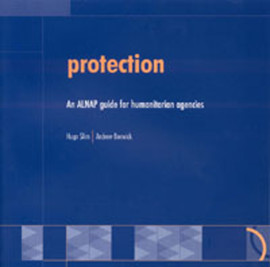 Protection
An ALNAP guide for humanitarian agencies
Published: 2006
Pages: 120

eBook: 9780855988869
Paperback: 9780855985721
This guide gives essential advice and insights to humanitarian practitioners who are involved in providing safety and protecting vulnerable people in war and disaster. It provides a framework for responsibility and action, which helps clarify conceptual issues and helps humanitarian field workers position themselves vis-a-vis other actors who have overlapping mandates. A practical schema is also presented, which gives practical advice on how to think through the various elements of protection focused programming in four clear steps: assessment; programme design; implementation: monitoring and evaluation. The guide also outlines key principles of best practice for protection-focused humanitarian work.
Introduction: PART 1: UNDERSTANDING PROTECTION: PROTECTION FROM WHAT? Variety of contexts; Deliberate personal violence; Deprivation; Limited movement and restricted access; The question of intent; Protection and responsibility: Defining protection; Safety; Dignity; Integrity; Protection as empowerment;

Protection as rights-based; Law and protection; Protection responsibility and protection mandates; State responsibility; Mandated and specialized agencies; Non-mandated agencies; The challenge of protection; A framework for protection: The egg framework; Spheres of action; Types of protection activity; Complementarity in protection work; Recognizing protection dilemmas; Eight strategic risks in protection work; The safety of humanitarian personnel; The safety of victims; PART 2: PROGRAMMING FOR PROTECTION: HUMANITARIAN PROGRAMMING WITH PROTECTION OBJECTIVES: A risk-based model of protection; Reducing threats: engaging responsibility; Reducing vulnerability: involving communities; Reducing danger time: limiting exposure; Recognizing primary and secondary risks; Program design; Four programming steps; Step one: situation analysis and protection assessment: Introduction; Awareness of all victim groups; Information gathering; Violations, threats and perpetrators; Monitoring human rights and international humanitarian law; Impact of violations on affected populations; Community protection strategies; Legal standards and responsibility analysis; Mapping political commitment and resources; Step two: setting protection outcomes and objectives: Setting priorities; Specifying protection outcomes; Setting your objectives; Changing behavior; Changing the behavior of perpetrators; Changing the actions of responsible authorities; Reducing the vulnerability of affected communities; Checking your objectives; Step three: choosing protection activities: Plan your activities with endangered communities; Modes of action; Humanitarian advocacy; Advocacy objectives; Advocacy as persuasion; Advocacy as mobilization; Advocacy as denunciation; Humanitarian assistance; Assistance as an entry point to protection; Protective assistance; Assistance-related risks; Presence and accompaniment; Information as protection; Using the complementarity matrix; Example program design using humanitarian objectives; Step four: monitoring protection outcomes: People-centered monitoring; Involving responsible authorities; Staff-centered monitoring; An outsider's perspective; Outcome indicators; Capturing good and bad outcomes; Principles of best practice for protection-focused humanitarian work; Bibliography and annexes.
Hugo Slim
Dr Hugo Slim is a leading international academic in humanitarian studies. His work has a particular focus on the ethics of war, the protection of civilians and the morality and practice of humanitarian action.
Health in Humanitarian Emergencies
Protection
Wheaton, Wendy
Evans, Dabney P.
Anderson, Mark
2018
https://doi.org/10.1017/9781107477261.016
[Citations: 0]
Normes et directives pour l'aide d'urgence à l'élevage (LEGS)
CHAPITRE 2 Normes essentielles et thèmes transversaux communs à toutes les interventions en matière d'élevage
2017
https://doi.org/10.3362/9781780446745.002
[Citations: 0]
Understanding Why and How Civilians Resort to Self-Protection in Armed Conflict
Jose, Betcy
Medie, Peace A.
(2015) P.n/a
https://doi.org/10.1111/misr.12254
[Citations: 3]
Normas y directrices para intervenciones ganaderas en emergencias (LEGS)
CAPÍTULO 2 - Normas esenciales y temas transversales comunes a todas las intervenciones ganaderas
2016
https://doi.org/10.3362/9781780449197.003
[Citations: 0]
Dividing disasters in Aceh, Indonesia: separatist conflict and tsunami, human rights and humanitarianism
Zeccola, Paul
Disasters, Vol. 35 (2011), Iss. 2 P.308
https://doi.org/10.1111/j.1467-7717.2010.01213.x
[Citations: 20]
A Child's Right to a Healthy Environment
Promoting a Protective Environment for Children Affected by Disaster and War
Boothby, Neil
Ager, Alastair
2010
https://doi.org/10.1007/978-1-4419-6791-6_5
[Citations: 5]
Participation, political economy and protection: food aid governance in Darfur, Sudan
Young, Helen
Maxwell, Daniel
Disasters, Vol. 37 (2013), Iss. 4 P.555
https://doi.org/10.1111/disa.12023
[Citations: 8]
Humanitarian Space as Arena: A Perspective on the Everyday Politics of Aid
Hilhorst, Dorothea
Jansen, Bram J.
Development and Change, Vol. 41 (2010), Iss. 6 P.1117
https://doi.org/10.1111/j.1467-7660.2010.01673.x
[Citations: 110]
Humanitarian organizations involved in protection activities: a story of soul-searching and professionalization
Gentile, Pierre
International Review of the Red Cross, Vol. 93 (2011), Iss. 884 P.1165
https://doi.org/10.1017/S1816383112000343
[Citations: 11]
The "Everyday Politics" of IDP Protection in Karen State
Hull, Stephen
Journal of Current Southeast Asian Affairs, Vol. 28 (2009), Iss. 2 P.7
https://doi.org/10.1177/186810340902800202
[Citations: 13]
Livelihoods and protection in situations of protracted conflict
Jaspars, Susanne
O'Callaghan, Sorcha
Disasters, Vol. 34 (2010), Iss. P.S165
https://doi.org/10.1111/j.1467-7717.2010.01152.x
[Citations: 12]
THE POLITICS OF PROTECTION IN BURMA
South, Ashley
Critical Asian Studies, Vol. 44 (2012), Iss. 2 P.175
https://doi.org/10.1080/14672715.2012.672824
[Citations: 11]
Responding to security threats: livelihoods under protracted conflict in Sri Lanka
Kulatunga, Sasini T.K.
Lakshman, Rajith W.D.
Disasters, Vol. 37 (2013), Iss. 4 P.604
https://doi.org/10.1111/disa.12028
[Citations: 2]
Rights, Standards and Quality in a Complex Humanitarian Space: Is Sphere the Right Tool?
Dufour, Charlotte
Geoffroy, Véronique
Maury, Hugues
Grünewald, François
Disasters, Vol. 28 (2004), Iss. 2 P.124
https://doi.org/10.1111/j.0361-3666.2004.00248.x
[Citations: 32]
Militarization, human rights violations and community responses as determinants of health in southeastern Myanmar: results of a cluster survey
Davis, William W.
Mullany, Luke C.
Schissler, Matt
Albert, Saw
Beyrer, Chris
Conflict and Health, Vol. 9 (2015), Iss. 1
https://doi.org/10.1186/s13031-015-0059-0
[Citations: 3]
Governing Mobility through Humanitarianism in Somalia: Compromising Protection for the Sake of Return
Horst, Cindy
Nur, Anab Ibrahim
Development and Change, Vol. 47 (2016), Iss. 3 P.542
https://doi.org/10.1111/dech.12233
[Citations: 11]
More humanitarian accountability, less humanitarian access? Alternative ideas on accountability for protection activities in conflict settings
Klein-Kelly, Natalie
International Review of the Red Cross, Vol. 100 (2018), Iss. 907-909 P.287
https://doi.org/10.1017/S1816383119000031
[Citations: 0]
Protection, Resilience and Empowerment: United Nations Peacekeeping and Violence against Civilians in Contemporary War Zones
Williams, Paul D.
Politics, Vol. 33 (2013), Iss. 4 P.287
https://doi.org/10.1111/1467-9256.12014
[Citations: 25]
Migrant health professionals' systemic human rights vulnerabilities
Breakey, Hugh
Ransome, William
Sampford, Charles
International Migration, Vol. 59 (2021), Iss. 5 P.197
https://doi.org/10.1111/imig.12816
[Citations: 0]
Still falling short: protection and partnerships in the Lebanon emergency response
Shearer, David
Pickup, Francine
Disasters, Vol. 31 (2007), Iss. 4 P.336
https://doi.org/10.1111/j.1467-7717.2007.01012.x
[Citations: 10]
How violence against women and girls undermines resilience to climate risks in Chad
Masson, Virginie Le
Benoudji, Colette
Reyes, Sandra Sotelo
Bernard, Giselle
Disasters, Vol. 43 (2019), Iss. S3 P.S245
https://doi.org/10.1111/disa.12343
[Citations: 10]
NL ARMS Netherlands Annual Review of Military Studies 2020
Deterrence in Peace Operations: Look Beyond the Battlefield and Expand the Number of Targets and Influence Mechanisms
Jakobsen, Peter Viggo
2021
https://doi.org/10.1007/978-94-6265-419-8_17
[Citations: 0]