Book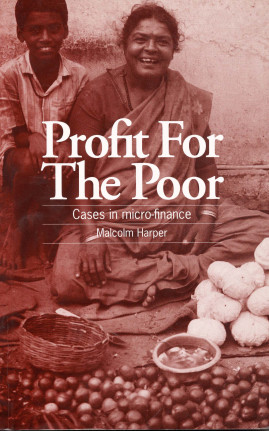 Profit for the Poor
Cases in micro-finance
Published: 1998
Pages: 200

eBook: 9781780440910
Paperback: 9781853394386
Microcredit is the latest development fashion, and it has even received the ultimate accolade of a world summit It is not generally appreciated, however, that there is a wide variety of quite different approaches to the profitable delivery of financial services to the poor. Such services are being indeed, have for many years been provided by many different types of institution, including traditional commercial banks, NGOs and the much publicized new generation institutions. This book contains a selection of case studies from India, Bangladesh, East and Southern Africa, Indonesia and Latin America, together with many challenging comments and questions. Two points are made: first that there is no universally applicable methodology in the field, and second that well-managed microfinance can be profitable both for its customers and its providers; it is a business opportunity itself for bankers, and need not depend on donor assistance.
Section 1: Introduction and Some General Issues

Chapter 1. Introduction

Chapter 2. Interest Rates

Chapter 3. Where is the Money to Come From?

Chapter 4. The Institutions

Section 2: Case Studies

Chapter 5. The Bhawal Rajbari Branch, Grameen Bank,

Bangladesh

Chapter 6. The Banco Nacional de Comercio Interior, Mexico

Chapter 7. The Gazaria Branch, BRAC, Bangladesh

Chapter 8. The Omdunnan Productive Families Branch of the

Sudan-Islamic Bank

Chapter 9. The Laxmi Mahila Sangam and Myrada, Karnataka

State, India

Chapter 10. PRIDE and KREP, Two Examples from Machakos,

Kenya

Chapter 11. The Kenya Industrial Estates Informal Sector

Programme, Murang'a Branch

Chapter 12. Cuttack Urban Cooperative Bank-College Square

Branch

Chapter 13. Masoko Madogo Madogo Market Society, Dar Es

Salaam, Tanzania

Chapter 14. The Pingua Branch of the Dhenkanal Gramya Bank,

Orissa, India: 'Linkage' to Self Help Groups

Chapter 15. Puri Gramin Bank and DSS Balipatna, Orissa, India

Chapter 16. Bank Rakyat Indonesia - Contoh Unit

Chapter 17. The Start-Up Fund, South Africa

Chapter 18. The Kalanjiam Community Banking System, Madurai

East, Tamil Nadu, India

Chapter 19. Basix Finance, Raichur, Karnataka, India

Chapter 20. Conclusions
Malcolm Harper
Malcolm Harper taught at Cranfield School of Management until 1995, and since then has worked mainly in India. He has published on enterprise development and microfinance. He was Chairman of Basix Finance from 1996 until 2006, and is Chairman of M-CRIL, the microfinance credit rating agency.
People's development with people's money: The mobilisation-organisation-finance nexus
Dale, Reidar
Development in Practice, Vol. 11 (2001), Iss. 5 P.606
https://doi.org/10.1080/09614520120085359
[Citations: 3]
Evolution of the Minangkabau's shifting cultivation in the West Sumatra highland OF Indonesia and its strategic implications for dynamic farming systems
Dendi, A.
Shivakoti, G. P.
Dale, R.
Ranamukhaarachchi, S. L.
Land Degradation & Development, Vol. 16 (2005), Iss. 1 P.13
https://doi.org/10.1002/ldr.641
[Citations: 6]
Perception des femmes entrepreneures face aux exigences de garanties des organismes de crédits au Sénégal: quelle influence des réseaux d'affaires
Simen, Serge Francis
(2020) P.1
https://doi.org/10.1080/08276331.2020.1823791
[Citations: 1]
Microfinance and Climate Change Adaptation
Hammill, Anne
Matthew, Richard
McCarter, Elissa
IDS Bulletin, Vol. 39 (2009), Iss. 4 P.113
https://doi.org/10.1111/j.1759-5436.2008.tb00484.x
[Citations: 51]
Regional Development Programmes
Dale, Reidar
Public Management: An International Journal of Research and Theory, Vol. 2 (2000), Iss. 4 P.499
https://doi.org/10.1080/14719030000000030
[Citations: 2]
Stages of Corporate Social Responsibility
Corporate Social Responsibility in Nigeria: Drivers and Barriers Experienced by Female Entrepreneurs When Undertaking CSR
Lincoln, Adebimpe
2017
https://doi.org/10.1007/978-3-319-43536-7_2
[Citations: 1]
Can poor farmers afford higher micro-credit interest rates than the un-poor?
Tan, Xiaoping
lin, Wanlong
China Agricultural Economic Review, Vol. 8 (2016), Iss. 1 P.100
https://doi.org/10.1108/CAER-07-2013-0095
[Citations: 2]
Financial Entrepreneurship for Economic Growth in Emerging Nations
The Qualitative Relationship Between Banks and SMEs in Wales
Woldie, Atsede
Hagshenas, Hooman
Thomas, Brychan Celfyn
2018
https://doi.org/10.4018/978-1-5225-2700-8.ch005
[Citations: 0]
Research Anthology on Small Business Strategies for Success and Survival
The Qualitative Relationship Between Banks and SMEs in Wales
Woldie, Atsede
Hagshenas, Hooman
Thomas, Brychan Celfyn
2021
https://doi.org/10.4018/978-1-7998-9155-0.ch009
[Citations: 0]
EXPLORING PARTNERSHIP ENTERPRISE FOR THE RURAL POOR THROUGH AN EXPERIMENTAL POULTRY PROGRAM IN BANGLADESH
MAKITA, RIE
Journal of Developmental Entrepreneurship, Vol. 12 (2007), Iss. 02 P.217
https://doi.org/10.1142/S1084946707000642
[Citations: 1]
Handbook of Research on Social Entrepreneurship and Solidarity Economics
Social Entrepreneurship and Income Distribution
Castaño-Martínez, María-Soledad
Méndez-Picazo, María-Teresa
Galindo-Martín, Miguel-Ángel
2016
https://doi.org/10.4018/978-1-5225-0097-1.ch003
[Citations: 0]
SME financing in the UK and in China: a comparative perspective
Matlay, Harry
Hussain, Javed
Millman, Cindy
Matlay, Harry
Journal of Small Business and Enterprise Development, Vol. 13 (2006), Iss. 4 P.584
https://doi.org/10.1108/14626000610705769
[Citations: 87]
Comparative Study of the Financial Independence, Self-Confidence and Decision-Making Power, Awareness of the Social Resources and Mental Health in the Women Members of SHG and Non-Member of SHG
Asghari, Farhad
Sadeghi, Abbas
Aslani, Khaled
Sociology Mind, Vol. 03 (2013), Iss. 01 P.114
https://doi.org/10.4236/sm.2013.31017
[Citations: 1]
Failing Financial and Training Institutions: The Marginalization of Rural Household Enterprises in the Indian Punjab
Simmons, Colin
Supri, Salinder
Journal of Economic Issues, Vol. 33 (1999), Iss. 4 P.951
https://doi.org/10.1080/00213624.1999.11506223
[Citations: 3]
Microfinance challenges: empowerment or disempowerment of the poor?
References Part 1
2005
https://doi.org/10.4000/books.ifp.5748
[Citations: 0]
Competition in Financial Services
Evans, Carolyn M
Healey, Deborah
Nehme, Marina
Nicholls, Rob
(2015)
https://doi.org/10.2139/ssrn.2666851
[Citations: 0]
Entrepreneurship
Social Entrepreneurship and Income Distribution
Castaño-Martínez, María-Soledad
Méndez-Picazo, María-Teresa
Galindo-Martín, Miguel-Ángel
2017
https://doi.org/10.4018/978-1-5225-1923-2.ch038
[Citations: 0]