Book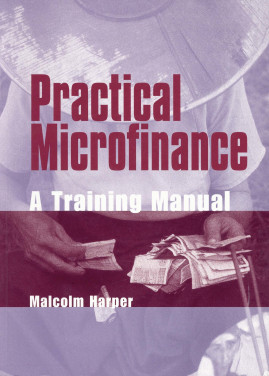 Practical Microfinance
A training manual
Published: 2003
Pages: 192

eBook: 9781780440903
Paperback: 9781853395635
Modern' or 'new paradigm' microfinancial services are reaching perhaps as many as twenty million people worldwide. These services are being provided by existing banks which have added microfinance to their product portfolio, by specialized microfinance institutions (MFIs) and by non-governmental organization (NGOs) which offer microfinance along with other services. This training manual is designed to meet the needs of those who train staff for banks, MFIs and NGOs. It will enable them to provide effective training for those who work, or may in the future work, in the field of microfinance. Practical Microfinance provides detailed step-by-step descriptions for twenty-two sessions which together offer a complete 5 to 10 day course on microfinance. The sessions cover a wide range of topics including: introduction to financial accounts; undertaking field visits; analysis of MFIs; group and individual lending; micro-insurance and micro-savings; and measuring the impact of microfinance. An introductory chapter includes advice on how to use the material in the book and a list of recommended resources and full index are provided for ease of reference.
Prelims (Contents, Acknowledgements, Introduction)

1. 'New paradigm microfinance' – what is it?

2. Introduction to financial accounts and analysis

3. Field visits to microbusinesses

4. Rates of return and the cost of money

5. Visit to microfinance groups

6. Financial analysis of a microfinance institution

7. Planning for MFI profitability

8. Marketing microfinance

9. Men and women as clients for microfinance

10. Arrears and defaults – definition and measurement

11. 'Graduation' and individual loans

12. Individual versus group lending – the pros and cons of each

13. Bangladesh Grameen groups or self-help on-lending groups?

14. Subsidies – when and how?

15. Commercial banks and microfinance

16. The need for microsavings services

17. Micro-insurance

18. MFI staffing – recruitment and motivation

19. Management information systems – selection and design

20. Measuring the impact of microfinance

21. The 'downside' of microfinance

22. Regulation and supervision – by whom and how?

Back Matter (Resources, Index)
Malcolm Harper
Malcolm Harper taught at Cranfield School of Management until 1995, and since then has worked mainly in India. He has published on enterprise development and microfinance. He was Chairman of Basix Finance from 1996 until 2006, and is Chairman of M-CRIL, the microfinance credit rating agency.