Book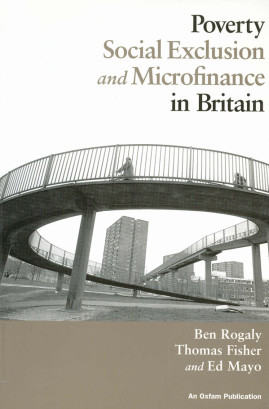 Poverty, Social Exclusion and Microfinance in Britain
Published: 1999
Pages: 176

eBook: 9780855988326
Paperback: 9780855984137
This is an analysis of the potential of community-based financial services to reduce poverty and combat social exclusion in Britain. From this base, the authors move to a critical review of the outcomes of microfinance interventions around the world. They consider innovative economic responses to poverty in countries such as Bangladesh and Bolivia. Then drawing on their own research, they set out ways to counter financial exclusion in Britain; how to enable people to build assets and acquire capital, and provide mechanisms for the wealth retention in communities deserted by conventional banks.
Oxfam and the new Economics Foundation

Acknowledgements

1. Introduction

Ben Rogaly and Tomas Fisher

2. Poverty and social exclusion in Britain: where finance fits

Ben Rogaly

3. Responses to poverty and exclusion: the social policy context for microfinance interventions

Ben Rogaly

4. Microfinance and poverty reduction: the international experience

Ben Rogaly

5. Microfinancial services in Britain

Thomas Fisher

6. Conclusion

Thomas Fisher, Ed Mayo, and Ben Rogaly

Notes

Suggestions for further reading

Index.
Ben Rogaly Ben Rogaly is Senior Lecturer in Human Geography and a member of the Sussex Centre for Migration Research. He has also worked as a research officer at Oxford and Reading Universities, and as a policy advisor at Oxfam (UK).
Banking on the Margin in Canada
Buckland, Jerry
Dong, Xiao-Yuan
Economic Development Quarterly, Vol. 22 (2008), Iss. 3 P.252
https://doi.org/10.1177/0891242408318738
[Citations: 17]
A Cost-Effectiveness Analysis of the Grameen Bank of Bangladesh
Schreiner, Mark
Development Policy Review, Vol. 21 (2003), Iss. 3 P.357
https://doi.org/10.1111/1467-7679.00215
[Citations: 41]
A Theoretical and Quantitative Analysis of Financial Inclusion and Economic Growth
(Kablana), Anand S. Kodan
Chhikara, Kuldip S.
Management and Labour Studies, Vol. 38 (2013), Iss. 1-2 P.103
https://doi.org/10.1177/0258042X13498009
[Citations: 22]
Banking for the Poor: Addressing the Needs of Financially Excluded Communities in Newcastle upon Tyne
Fuller, Duncan
Mellor, Mary
Urban Studies, Vol. 45 (2008), Iss. 7 P.1505
https://doi.org/10.1177/0042098008090686
[Citations: 20]
Microfinance, the Labour Market and Social Inclusion: A Tale of Three Cities
Mosley, Paul
Steel, Lucy
Social Policy and Administration, Vol. 38 (2004), Iss. 7 P.721
https://doi.org/10.1111/j.1467-9515.2004.00415.x
[Citations: 6]
'Be Realistic: Demand the Impossible'. Moving Towards 'Strong' Sustainable Development in an Old Industrial Region?
Chatterton, Paul
Regional Studies, Vol. 36 (2002), Iss. 5 P.552
https://doi.org/10.1080/00343400220137155
[Citations: 19]
Microcredit in the North: An Institutional, Impact and Dependence Analysis Applied to the Spanish Case
Gutierrez-nieto, Begona
Annals of Public and Cooperative Economics, Vol. 77 (2006), Iss. 1 P.21
https://doi.org/10.1111/j.1370-4788.2006.00296.x
[Citations: 2]
The Dynamics of Intellectual Capital in Current Era
Modelling Intellectual Capital with Financial Inclusion: The Mediating Role of Economic Growth
Ali, Muhammad
Rasiah, Rajah
Puah, Chin Hong
Arsalan, Tazeen
Hashmi, Anum
2021
https://doi.org/10.1007/978-981-16-1692-1_11
[Citations: 0]
Financial exclusion and debt redemption
Drakeford, Mark
Sachdev, Darshan
Critical Social Policy, Vol. 21 (2001), Iss. 2 P.209
https://doi.org/10.1177/026101830102100205
[Citations: 10]
Mortgage markets and cultures of consumption
Cook, Nicole
Smith, Susan J.
Searle, Beverley A.
Consumption Markets & Culture, Vol. 12 (2009), Iss. 2 P.133
https://doi.org/10.1080/10253860902840958
[Citations: 32]
Consulting the community
Diamond, John
Fuller, Duncan
Mellor, Mary
Dodds, Lynn
Affleck, Arthur
International Journal of Sociology and Social Policy, Vol. 26 (2006), Iss. 5/6 P.255
https://doi.org/10.1108/01443330610674297
[Citations: 14]
Microfinance and gender considerations in developed countries
Estapé‐Dubreuil, Glòria
Torreguitart‐Mirada, Consol
Management Research Review, Vol. 33 (2010), Iss. 12 P.1140
https://doi.org/10.1108/01409171011092194
[Citations: 6]
Entrepreneurial Finance for MSMEs
Microfinance Intervention
Abor, Joshua Yindenaba
2017
https://doi.org/10.1007/978-3-319-34021-0_6
[Citations: 1]