Book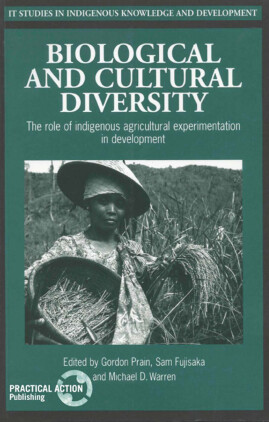 Biological and Cultural Diversity
The role of indigenous agricultural experimentation in development
Gordon Prain, Sam Fujisaka, D Michael Warren
Much recent 'scientific' agricultural research has failed to build upon the valuable experiences and lessons learnt from farmers, in combating problems faced in agriculture. Biological and Cultural Diversity presents, for the first time, cases of indigenous experimentation as well as the benefits in terms of rural development of new partnerships between farmers and formal research. Development workers, agricultural researchers and others concerned about rural poverty, agricultural sustainability and local resource management will find this book highly relevant and of value to their work. Published in the IT Studies in Indigenous Knowledge and Development series
Published: 1999
Pages: 224

eBook: 9781780444574
Paperback: 9781853394430
Much recent 'scientific' agricultural research has failed to build upon the valuable experiences and lessons learnt from farmers, in combating problems faced in agriculture. Biological and Cultural Diversity presents, for the first time, cases of indigenous experimentation as well as the benefits in terms of rural development of new partnerships between farmers and formal research. Development workers, agricultural researchers and others concerned about rural poverty, agricultural sustainability and local resource management will find this book highly relevant and of value to their work. Published in the IT Studies in Indigenous Knowledge and Development series
Preface

Notes on Contributors

Introduction 1

1 Rice cropping practices in Nepal: indigenous adaptation to adverse and difficult environments 6

2 Farmer-based experimentation with velvetbean: innovation within tradition 32

3 Side-stepped by the Green Revolution: farmers' traditional rice cultivars in the uplands and rainfed lowlands 50

4 Environmental dynamics, adaptation and experimentation in indigenous Sudanese water harvesting 64

5 The indigenization of exotic inputs by small-scale farmers on the Jos Plateau, Nigeria 80

6 Farmer management of rootcrop genetic diversity in Southern Philippines 92

7 Farmer experimentation in a Venezuelan Andean group 113

8 Indian farmers opt for ecological profits 125

9 Indigenous agricultural experimentation in home gardens of South India: conserving biological diversity and achieving nutritional security 134

10 Living local knowledge for sustainable development 147

11 Varietal diversity and farmers' knowledge: the case of the sweet potato in Irian Jaya 158

12 The indigenous concept of experimentation among Malian farmers 163

13 Umnotho Wethu Amadobo: the clash between indigenous agricultural knowledge and a Western conservation ethic in Maputaland, South Africa 172

14 Local-level experimentation with social organization and management of self-reliant agricultural development: the case of gender in Ara, Nigeria 184

15 Chinese farmers' initiatives in technology development and dissemination: a case of a farmer association for rural technology development 192

Notes 199

References 202
Gordon Prain Gordon Prain, Regional Director, International Potato Centre, East, Southeast Asia and the Pacific Division, Jakarta, Indonesia.
Sam Fujisaka Sam Fujisaka, Agricultural Anthropologist, CIAT, Colombia.
D Michael Warren Professor Dennis Michael Warren was an anthropologist and leading Africanist scholar who taught at Iowa State University from 1972 to1997. Professor Warren was especially interested in indigenous knowledge and rural development in Africa. His interest in indigenous knowledge led him to the study of art, culture, the rural economy and traditional healing in Ghana and Nigeria and to comparative studies of other societies.