Book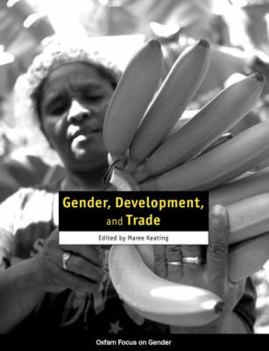 Gender, Development, and Trade
Published: 2004
Pages: 100

eBook: 9780855987442
Paperback: 9780855985325
Women all over the world are increasingly employed - and exploited - at the far end of the global supply chain. Whether by picking fruit in Chile, processing cashews in Mozambique, sewing in Chinas Export Processing Zones, or providing biotech companies with indigenous knowledge in India, women's labour and skill are crucial elements in the scaling up of globalised production processes. It might be argued that women benefit in terms of status and income from this trend, but what are the hidden costs of new trade regimes, and do they outweigh the benefits? What do women stand to lose from trade agreements on agricultural products, intellectual property, and the movement of migrant labour? Contributors to this volume show how women are finding ways to influence national and international trade policy agendas in developed countries and are joining forces in global forums to campaign for reforms. Authors include Nazneen Kanji, Pun Ngai, Peggy Ntseane, Marceline Suman Sahai, and Marceline White. Case studies are cited from a wide range of countries, including Australia, Botswana, China, Mexico, Mozambique, and Zimbabwe.
Editorial

Maree Keating

'Good jobs'; and hidden costs: women workers documenting the price of precarious employment'

Thalia Kidder and Kate Raworth

Global trade and home work: closing the divide

Annie Delaney

Women workers and precarious employment in Shenzhen Special Economic Zone, China

Pun Ngai

Being a female entrepreneur in Botswana: cultures, values, strategies for success

Peggy Ntseane

Look FIRST from a gender perspective: NAFTA and the FTAA

Marceline White

Are trade agreements with the EU beneficial to women in Africa, the Caribbean and the Pacific?

Karin Ulmer

TRIPS and Biodiversity: a gender perspective

Suman Sahai

Women, trade and migration

Donn Flynn and Eleonore Kofman

Gender, the Doha Development Agenda and the post-Cancun trade negotiations

Mariama Williams

Corporate responsibility and women's employment: the cashew nut case

Nazneen Kanji

Resources:

Compiled by Erin Leigh

Publications

Journals

Electronic resources

Tools and websites

Organisations
Caroline Sweetman was previously Editor of the international journal Gender & Development.