Book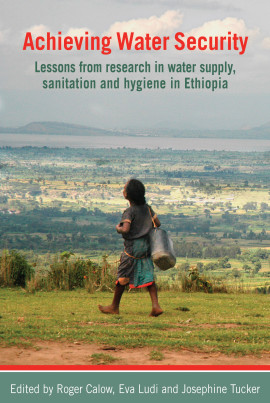 Achieving Water Security
Lessons from research in water supply, sanitation, and hygiene in Ethiopia
Roger Calow, Eva Ludi, Josephine Tucker
Published: 2013
Pages: 224

eBook: 9781780447636
Hardback: 9781853397639
Paperback: 9781853397646
Achieving water security remains an elusive goal yet the benefits of investing in water, sanitation and hygiene to achieve basic water security and alleviate poverty are clear. Households benefit through a range of livelihood impacts; economies benefit from greater economic activity and over the longer-term, households and economies benefit through greater resilience to climate change and shocks. So why are governments and their development partners struggling to meet water and sanitation targets? What factors make it difficult to sustain services at scale? And how can policies and plans for delivering and sustaining services for poor people be strengthened in the face of multiple pressures, including climate change? This book addresses these questions and draws conclusions for policy and practice, linking findings with current international debates on service delivery in rural areas. This book should be read by government agencies, donor organisations and NGOs, as well as academics and researchers in the water, sanitation and hygiene sector. Published in association with ODI.
Prelims (Foreword, by the Ethiopian Ministry of Water Resources and DFID )

1. Introduction

Roger Calow, Zemede Abebe and Alan Nicol

2. Ethiopia's water resources, policies, and institutions

Eva Ludi, Bethel Terefe, Roger Calow and Gulilat Birhane

3. WASH sector monitoring

John Butterworth, Katharina Welle, Kristof Bostoen and Florian Schaefer

4. Innovative approaches for extending access to water services: the potential of multiple-use water services and self-supply

Marieke Adank, John Butterworth, Sally Sutton and Zemede Abebe

5. Sanitation and hygiene promotion in rural communities: the Health Extension Programme

Peter Newborne and Anu Liisanantti

6. Sustainability of water services in Ethiopia

Nathaniel Mason, Alan MacDonald, Sobona Mtisi, Israel Deneke Haylamicheal and Habtamu Abebe

7. Water for livelihood resilience, food security, and poverty reduction

Josephine Tucker, Zelalem Lema and Samson Eshetu Lemma

8. Responding to climate variability and change: implications for planned adaptation

Lindsey Jones, Lorraine Coulter, Million Getnet Gebreyes, Beneberu Shimelis Feleke, Naomi Oates, Leulseged Yirgu Gebreamlak and Josephine Tucker

9. Policy and practice influence through research: critical reflections on RiPPLE's approach

Josephine Tucker, Ewen Le Borgne and Marialivia Iotti
Roger Calow Roger Calow is Head of the Water Policy Programme at the UK's Overseas Development Institute (ODI), specializing in water resource governance, and was Director of the RiPPLE programme from 2009 to 2011.
Eva Ludi Eva Ludi is a senior Research Fellow at ODI focusing on water, food security, and climate change adaptation.
Josephine Tucker Josephine Tucker is a Research Fellow in ODI's Water Policy Programme with expertise in water service delivery, ecosystems, and resilience.
A relational framework for investigating nexus governance
Stein, Christian
Jaspersen, Lena J.
The Geographical Journal, Vol. 185 (2019), Iss. 4 P.377
https://doi.org/10.1111/geoj.12284
[Citations: 7]
State level water security indices in Mexico
Arreguin-Cortes, Felipe I.
Saavedra-Horita, J. Raul
Rodriguez-Varela, J. Manuel
Tzatchkov, Velitchko G.
Cortez-Mejia, Petronilo E.
Llaguno-Guilberto, Oscar J.
Sainos-Candelario, Arizabeth
Sustainable Earth, Vol. 3 (2020), Iss. 1
https://doi.org/10.1186/s42055-020-00031-4
[Citations: 1]
Scale up of nutrition and health programs in Ethiopia and their overlap with reductions in child stunting
Wirth, James P.
Matji, Joan
Woodruff, Bradley A.
Chamois, Sylvie
Getahun, Zewditu
White, Jessica M.
Rohner, Fabian
Maternal & Child Nutrition, Vol. 13 (2017), Iss. 2 P.e12318
https://doi.org/10.1111/mcn.12318
[Citations: 7]
Municipal level water security indices in Mexico
Arreguin-Cortes, Felipe I.
Saavedra-Horita, J. Raul
Rodriguez-Varela, J. Manuel
Tzatchkov, Velitchko G.
Cortez-Mejia, Petronilo E.
Llaguno-Guilberto, Oscar J.
Sainos-Candelario, Arizabeth
Sandoval-Yoval, Luciano
Ortega-Gaucin, David
Mendoza-Cazares, E. Yuri
Navarro-Barraza, Salvador
SN Applied Sciences, Vol. 1 (2019), Iss. 10
https://doi.org/10.1007/s42452-019-1180-2
[Citations: 4]
Climate Change and Water and Sanitation: Likely Impacts and Emerging Trends for Action
Howard, Guy
Calow, Roger
Macdonald, Alan
Bartram, Jamie
Annual Review of Environment and Resources, Vol. 41 (2016), Iss. 1 P.253
https://doi.org/10.1146/annurev-environ-110615-085856
[Citations: 87]
Performance enhancement of Nalgonda technique and pilot testing electrolytic defluoridation system for removing fluoride from drinking water in East Africa
Teshome, L. Yami
Jim, F. Chamberlain
Feleke, Z. Beshah
David, A. Sabatini
African Journal of Environmental Science and Technology, Vol. 12 (2018), Iss. 10 P.357
https://doi.org/10.5897/AJEST2018.2545
[Citations: 7]
Rural households access to water resources under climate impacts based on field evidence in Tigray Region, Ethiopia
G., Honor Fagan
Daniel, Etongo
Zenawi, Zerihun
Kelemewerk, Tafere
African Journal of Environmental Science and Technology, Vol. 13 (2019), Iss. 6 P.228
https://doi.org/10.5897/AJEST2019.2675
[Citations: 1]