Book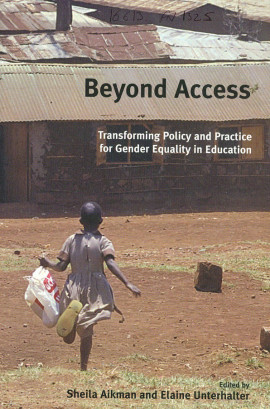 Beyond Access
Transforming Policy and Practice for Gender Equality in Education
Sheila Aikman, Elaine Unterhalter
Published: 2005
Pages: 272

eBook: 9780855986605
Paperback: 9780855985295
In a world in which poverty, social prejudice and poor-quality provision cause an estimated 100 million girls to drop out of school before completing their primary education, it is not enough for governments to pledge themselves to increase girls' access to school. This book presents a vision of a transformational education which would promote social change, enable girls to achieve their full potential and contribute to the creation of a just and democratic society. Contributors to this book examine the extent and causes of gender-based inequality in education, analyse government policies and their implications for women's empowerment and report on original field-work in a range of local contexts where gender-equality initiatives have flourished. In their introduction and their concluding chapter Sheila Aikman and Elaine Unterhalter consider the challenges that confront policy makers, practitioners, campaigners and researchers if they are to make real progress towards gender equality in education, in the context of the Millennium Development Goals.
Introduction;

Part One: The Challenges for Gender Equality in Education: Fragmented frameworks? Researching women, gender, education, and development; Ensuring a fair chance for girls; Measuring gender equality in education;

Part Two:Transforming Action – Changing Policy through Practice: Educating girls in Bangladesh: watering a neighbour's tree?; The challenge of educating girls in Kenya; Learning to improve policy for pastoralists in Kenya; When access is not enough: educational exclusion of rural girls in Peru; Crossing boundaries and stepping out of purdah in India; Pastoralist schools in Mali: gendered roles and curriculum realities;

Part Three:The Challenge of Local Practices – Doing Policy Differently?: Learning about HIV/AIDS in schools: does a gender-equality approach make a difference?; Gender, education, and Pentecostalism: the women's movement within the Assemblies of God in Burkina Faso; Enabling education for girls: the Loreto Day School Sealdah, India;

Conclusion: policy and practice change for gender equality;
Sheila Aikman Sheila Aikman has worked with a wide range of NGOs from community-based and regional federations of indigenous peoples in South America to international NGOs such as the International Work Group for Indigenous Affairs, Copenhagen, and Oxfam GB where she held the post of Global Education Policy Adviser prior to joining UEA and DEV in March 2008.
Elaine Unterhalter Elaine Unterhalter is a reader in Education and International Development at the Institute of Education, University of London. Together with Sheila Aikman she co-ordinates the 'Beyond Access: Gender, Education and Development' project. Her books include Gender, Schooling and Global Social Justice (Routledge, 2006), Beyond Access (with Sheila Aikman, Oxfam, 2005) and Amartya Sen's Capability Approach and Social Justice in Education (with Melanie Walker, Palgrave, 2007).