Book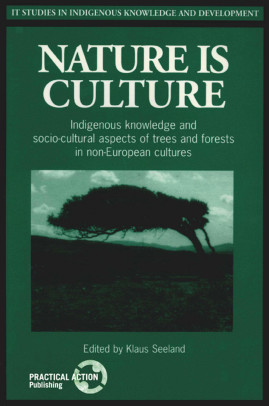 Nature is Culture
Indigenous knowledge and socio-cultural aspects of trees and forests in non-European cultures
Series: Studies in Indigenous Knowledge and Development
Published: 1997
Pages: 160

eBook: 9781780445557
Paperback: 9781853394102
The startling message of this book is that the so-called virgin forests of the world owe much to their symbiotic relationship with the indigenous peoples who live in and on the margins of the forests. Examples of forests are taken from Asia, Africa and South America, thus reflecting the global nature of the phenomenon. The book's conclusions will have far-reaching implications for all who are concerned with the conservation of forests and their indigenous human population. This book is published in the Indigenous Knowledge and Development Series.
Foreword vii

FRANZ SCHMITHOSEN

1. Introduction 1

KLAUS SEELAND

2. Culturing trees: socialized knowledge in the political

ecology of Kissia and Kuranko forest islands of Guinea 7

JAMES FAIRHEAD AND MELISSA LEACH

3. The perceived environment as a system of knowledge and

meaning: a study of the Mewahang Rai of eastern Nepal 19

BARUN GURUNG

4. Tatari: livelihood and danger in upland Japan 28

JOHN KNIGHT

5. Forests and trees in the cultural landscape of Lawa

swidden farmers in northern Thailand 44

DIETRICH SCHMIDT-VOGT

6. Tree marriage in India 51

ROBERT PARKIN

1. The influence of religious beliefs and rituals on forest

conservation in Nepal 57

ANDREW W. INGLES

8. The Huaorani and their trees: managing and imagining

the Ecuadorian rain forest 67

LAURA RIVAL

9. Where trees do matter for society: the socio-cultural aspects

of sal (Shorea robusta) and salap (Caryota urens L.) in the

Similipal hills of Orissa, India 79

MIHIR KUMAR JENA, KLAUS SEELAND AND KAMALA KUMARIPATNAIK

10. War, forests and the future: the environmental understanding

of the young in Sierra Leone 90

PAUL RICHARDS

11. Indigenous knowledge of trees and forests in non-

European societies 101

KLAUS SEELAND

12. Forests and trees in the world of two Tamang villages in

central Nepal: observations with special reference to the

role of Tamang women in forest management 113

BETT1NA MAAG

Appendix to Chapter 12 130

Notes on contributors 136

Notes 138

Bibliography 142
Klaus Seeland Klaus Seeland (PD, Dr., M.A.), born 1952 is at present reader in Sociology and Forest Resource Economics at the Chair of Forest Policy and Forest Economics, Swiss Federal Institute of Technology (Zurich/Switzerland), in Sociology at the University of Konstanz Germany) and Vice Chairman of 'Economic and Social Aspects of Forests in Developing countries', at the International Union of Forestry Research Organizations (IUFRO).
Has the generalisation regarding conservation of trees and shrubs in Swedish agricultural landscapes gone too far?
Peterson, Anna
Landscape and Urban Planning, Vol. 70 (2005), Iss. 1-2 P.97
https://doi.org/10.1016/j.landurbplan.2003.10.007
[Citations: 3]
Parks and Peoples: The Social Impact of Protected Areas
West, Paige
Igoe, James
Brockington, Dan
Annual Review of Anthropology, Vol. 35 (2006), Iss. 1 P.251
https://doi.org/10.1146/annurev.anthro.35.081705.123308
[Citations: 792]
Reinventing a Square Wheel: Critique of a Resurgent "Protection Paradigm" in International Biodiversity Conservation
Wilshusen, Peter R.
Brechin, Steven R.
Fortwangler, Crystal L.
West, Patrick C.
Society & Natural Resources, Vol. 15 (2002), Iss. 1 P.17
https://doi.org/10.1080/089419202317174002
[Citations: 330]
An evaluation of Dumagat/Remontado tribe as potential forest resource managers: the case of upper Marikina River basin Protected landscape, Philippines
Moussavi, S
Navarra, N
IOP Conference Series: Earth and Environmental Science, Vol. 771 (2021), Iss. 1 P.012036
https://doi.org/10.1088/1755-1315/771/1/012036
[Citations: 1]
A New Look at Global Forest Histories of Land Clearing
Williams, Michael
Annual Review of Environment and Resources, Vol. 33 (2008), Iss. 1 P.345
https://doi.org/10.1146/annurev.environ.33.040307.093859
[Citations: 24]
A Close-to-Nature Forest Economy Adapted to a Wider World
Gönner, Christian
Seeland, Klaus
Journal of Sustainable Forestry, Vol. 15 (2002), Iss. 4 P.1
https://doi.org/10.1300/J091v15n04_01
[Citations: 4]
Forests and Rural Development
At the Interface of Culture, Development, and Forests: Insights from Bolivia and Kenya
Rist, Stephan
Darr, Barbara
Bottazzi, Patrick
2014
https://doi.org/10.1007/978-3-642-41404-6_7
[Citations: 0]
Dark ages and dark areas: global deforestation in the deep past
Williams, Michael
Journal of Historical Geography, Vol. 26 (2000), Iss. 1 P.28
https://doi.org/10.1006/jhge.1999.0189
[Citations: 130]
Roles of intangible cultural heritage in tourism in natural protected areas
Esfehani, Minoo H.
Albrecht, Julia N.
Journal of Heritage Tourism, Vol. 13 (2018), Iss. 1 P.15
https://doi.org/10.1080/1743873X.2016.1245735
[Citations: 37]
An Anthropological Perspective on Some Unexpected Consequences of Protected Areas
West, Paige
Brockington, Dan
Conservation Biology, Vol. 20 (2006), Iss. 3 P.609
https://doi.org/10.1111/j.1523-1739.2006.00432.x
[Citations: 146]
FOREST RELATED RURAL LIVELIHOOD STRATEGIES IN NATIONAL AND GLOBAL DEVELOPMENT
PRETZSCH, JÜRGEN
Forests, Trees and Livelihoods, Vol. 15 (2005), Iss. 2 P.115
https://doi.org/10.1080/14728028.2005.9752515
[Citations: 16]
Changes in Beliefs and Perceptions About the Natural Environment in the Forest-Savanna Transitional Zone of Ghana: The Influence of Religion
Sarfo-Mensah, Paul
Oduro, William
(2010)
https://doi.org/10.2139/ssrn.1557119
[Citations: 2]
Humans and Nature: How Knowing and Experiencing Nature Affect Well-Being
Russell, Roly
Guerry, Anne D.
Balvanera, Patricia
Gould, Rachelle K.
Basurto, Xavier
Chan, Kai M.A.
Klain, Sarah
Levine, Jordan
Tam, Jordan
Annual Review of Environment and Resources, Vol. 38 (2013), Iss. 1 P.473
https://doi.org/10.1146/annurev-environ-012312-110838
[Citations: 292]
Socio-economic changes and sacred groves in South India: Protecting a community-based resource management institution
Chandrakanth, M.G.
Bhat, Mahadev G.
Accavva, M.S.
Natural Resources Forum, Vol. 28 (2004), Iss. 2 P.102
https://doi.org/10.1111/j.1477-8947.2004.00077.x
[Citations: 42]
The Nature of the Firm: Towards an Ecocultural History of Business
Rosen, Christine Meisner
Sellers, Christopher C.
Business History Review, Vol. 73 (1999), Iss. 4 P.577
https://doi.org/10.1017/S0007680500062437
[Citations: 41]
Lifescapes & governance: The Régulo system in Central Mozambique
Convery, Ian
Review of African Political Economy, Vol. 33 (2006), Iss. 109 P.449
https://doi.org/10.1080/03056240601000846
[Citations: 4]
A New Look at Global Forest Histories of Land Clearing
Williams, Michael
Annual Review of Environment and Resources, Vol. 33 (2008), Iss. 1 P.345
https://doi.org/10.1146/annurev.environ.33.040307.093859
[Citations: 24]