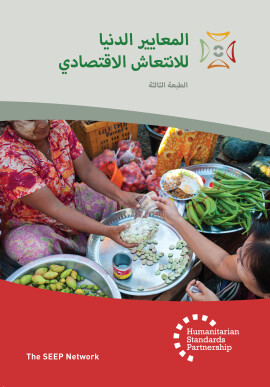 Minimum Economic Recovery Standards 3rd Edition Arabic
A major shift has taken place in the field of humanitarian assistance. This shift includes greater awareness of the key role markets play in assisting affected populations to recover from shocks. In parallel with emergency efforts to meet basic human needs for shelter, water, food, and health services, economic recovery assistance is needed as economies continue to function during a crisis. In the past, economic development was treated as a later stage activity with little or no coordination between relief and development. Based on a consensus across a broad range of aid agencies, humanitarian actors today are promoting livelihoods support to help affected populations make a living and meet their own basic needs.

The Minimum Economic Recovery Standards, developed and revised through the joint efforts of more than 90 agencies and over 175 practitioners, represent an industry consensus on economic recovery for the humanitarian sector. The MERS have become well recognized and accepted as an industry standard providing key actions, key indicators, and guidance notes to enhance the effectiveness of organizations working to support the economic recovery of crisis-affected populations. The standards highlight strategies designed to promote enterprise and market systems development, asset distribution, financial services, and employment in areas affected by conflict or disaster.

Today, the MERS are recognized as a part of the Humanitarian Standards Partnership, comprised of Sphere and its Companion Standards, which collaboratively promote complementarity among technical standards and provide evidence-based resources in multiple areas of humanitarian response.

Did you know? You can request free copies of the Minimum Standards for Education, and the Humanitarian Inclusion Standards for Older People and People with Disabilities (the postage is payable).
Contact INEE for your copy of the Minimum Standards for Education
Contact ADCAP for your copy of the Humanitarian Inclusion Standards for Older People and People with Disabilities
Series: Humanitarian Standards
Published: 2018
Pages: 186

eBook: 9781780449623
Paperback: 9781788530187
A major shift has taken place in the field of humanitarian assistance. This shift includes greater awareness of the key role markets play in assisting affected populations to recover from shocks. In parallel with emergency efforts to meet basic human needs for shelter, water, food, and health services, economic recovery assistance is needed as economies continue to function during a crisis. In the past, economic development was treated as a later stage activity with little or no coordination between relief and development. Based on a consensus across a broad range of aid agencies, humanitarian actors today are promoting livelihoods support to help affected populations make a living and meet their own basic needs.
The Minimum Economic Recovery Standards, developed and revised through the joint efforts of more than 90 agencies and over 175 practitioners, represent an industry consensus on economic recovery for the humanitarian sector. The MERS have become well recognized and accepted as an industry standard providing key actions, key indicators, and guidance notes to enhance the effectiveness of organizations working to support the economic recovery of crisis-affected populations. The standards highlight strategies designed to promote enterprise and market systems development, asset distribution, financial services, and employment in areas affected by conflict or disaster.
Today, the MERS are recognized as a part of the Humanitarian Standards Partnership, comprised of Sphere and its Companion Standards, which collaboratively promote complementarity among technical standards and provide evidence-based resources in multiple areas of humanitarian response.
Did you know? You can request free copies of the Minimum Standards for Education, and the Humanitarian Inclusion Standards for Older People and People with Disabilities (the postage is payable).
Contact INEE for your copy of the Minimum Standards for Education
Contact ADCAP for your copy of the Humanitarian Inclusion Standards for Older People and People with Disabilities
Using the Standards

A Quick Look Inside the Standards

Core Standards

Assessment and Analysis Standards

Enterprise and Market Systems Development Standards

Asset Distribution Standards

Financial Services Standards

Employment Standards

Annexes

Glossary

Standards Development Task Force
The SEEP Network
The SEEP Network is a global network of over 130 international practitioner organizations dedicated to combating poverty through promoting inclusive markets and financial systems.