Book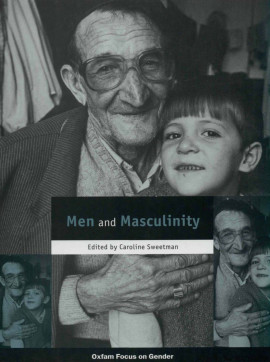 Men and Masculinity
Published: 1997
Pages: 72

eBook: 9780855987961
Paperback: 9780855983772
A collection of articles by development practitioners and theorists, which considers the implications of male gender identities on the rights of both women and men, and on gender-equitable development. Gender studies have often concentrated on the woman's role in the family, community and society. Men and Masculinity argues that male gender identities need to be studied in detail too if power relations between the sexes are to be changed for the better, and the potential of individuals of both sexes is to be realised. The articles, written by development practitioners worldwide, assess the implications for gender and development policy and practice of looking at male gender identities, as the issues of men and masculinity have often been marginalised. The focus of this work is on male gender identity and the effect this has on the society and community around them. Case studies from countries around the world look in detail at the issues surronding this subject, and attempt to answer the question ?What does it mean to be a man today in different cultures? This book was originally part of Oxfam's Gender and Development Journal, and therefore has an academic bias. However it is useful for those interested in seeing how men act....
* Editorial

* Caroline Sweetman

* Men, masculinity, and 'gender in development'

* Andrea Cornwall

* Men, masculinities and the politics of development

* Sarah C White

* Disintegration conflicts and the restructuring of masculinity

* Judith Large

* The role of men in families: achieving gender equity and supporting children

* Patrice L Engle

* Violence, rape, and sexual coercion: everyday love in a South African township

* Katharine Wood and Rachel Jewkes

* 'Crabs in a bucket': re-forming male identities in Trinidad

* Niels Sampath

* Gender workshops with men: experiences and reflections

* Kamla Bhasin

* New masculinity: a different route

* Gonzalo Falabella G

* Resources:

o Further reading

o Articles and papers

o Magazines, newsletters and journals

o NGO's, organisations and groups

o Internet resources.
Caroline Sweetman
Caroline Sweetman is Editor of the international journal Gender & Development and works for Oxfam GB.
RURAL DEVELOPMENT IN EL HATILLO, NICARAGUA: GENDER, NEOLIBERALISM AND ENVIRONMENTAL RISK
Cupples, Julie
Singapore Journal of Tropical Geography, Vol. 25 (2004), Iss. 3 P.343
https://doi.org/10.1111/j.0129-7619.2004.00190.x
[Citations: 11]
Unraveling Warriors, Nerds, Race, Eroticism & Rape
Gosse, Douglas
Culture, Society and Masculinities, Vol. 3 (2011), Iss. 2 P.176
https://doi.org/10.3149/CSM.0302.176
[Citations: 0]
Discrimination and Diversity
An NGO's Efforts to Empower Ex-Convicts in Botswana
Joseph, Molefe Coper
2017
https://doi.org/10.4018/978-1-5225-1933-1.ch048
[Citations: 0]
The gender dimension of the agrarian transition: women, men and livelihood diversification in two peri-urban farming communities in the Philippines
Angeles, Leonora C.
Hill, Kathryn
Gender, Place & Culture, Vol. 16 (2009), Iss. 5 P.609
https://doi.org/10.1080/09663690903148465
[Citations: 14]
Gender Inequality and State Security: The Effects of Women's Social Equality on Domestic Terrorism
Carter, Brittnee
Rogers, Benjamin
Turner, Amilee
(2021) P.1
https://doi.org/10.1080/08974454.2020.1871162
[Citations: 1]
Monitoring progress towards gender-equitable poverty alleviation
Baruah, Bipasha
Progress in Development Studies, Vol. 9 (2009), Iss. 3 P.171
https://doi.org/10.1177/146499340800900301
[Citations: 7]
Women's changing domestic responsibilities in neoliberal Africa: a relational time-space analysis of Lesotho's garment industry
Ansell, Nicola
Tsoeu, Seroala
Hajdu, Flora
Gender, Place & Culture, Vol. 22 (2015), Iss. 3 P.363
https://doi.org/10.1080/0966369X.2013.855712
[Citations: 7]
Cases on Grassroots Campaigns for Community Empowerment and Social Change
An NGO's Efforts to Empower Ex-Convicts in Botswana
Joseph, Molefe Coper
2015
https://doi.org/10.4018/978-1-4666-8568-0.ch010
[Citations: 0]
AIDS, individual behaviour and the unexplained remaining variation
Katz, Alison
African Journal of AIDS Research, Vol. 1 (2002), Iss. 2 P.125
https://doi.org/10.2989/16085906.2002.9626552
[Citations: 12]
The Hazy New Dawn
Ng, Cecilia
Gender, Technology and Development, Vol. 14 (2010), Iss. 3 P.313
https://doi.org/10.1177/097185241001400302
[Citations: 3]
Which Men, Why Now?Reflections on Men and Development
Pearson, Ruth
IDS Bulletin, Vol. 31 (2000), Iss. 2 P.42
https://doi.org/10.1111/j.1759-5436.2000.mp31002006.x
[Citations: 4]