Book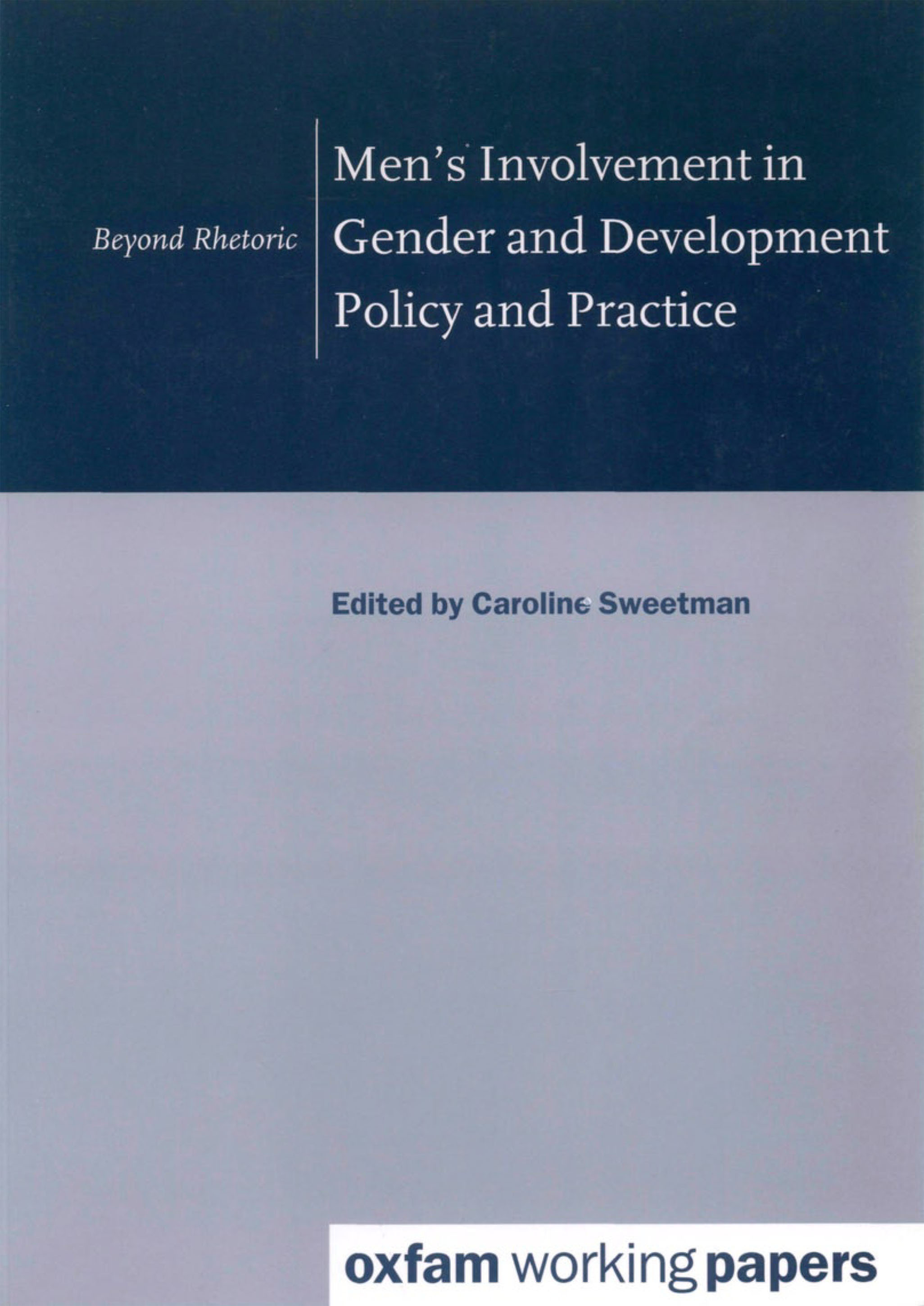 Men's Involvement in Gender and Development Policy and Practice
Published: 2001
Pages: 80

eBook: 9780855987985
Paperback: 9780855984663
In what sectors and contexts should work on gender and development involve men as beneficiaries? What are the issues confronting men who work in development projects that are committed to promoting gender equality? These questions were addressed by contributors to a seminar hosted by Oxfam GB, with the Center for Cross-Cultural Research on Women at the University of Oxford, in Oxford in June 2000. This working paper presents an edited selection of papers given at the seminar by speakers from both North and South. These included women and men working as gender trainers and policy advisers in a wide range of contexts, from a task-force on reproductive health in Egypt to drop-in centres for unemployed men in the north of England. The contributors consider current debates about men and masculinity and argue that gender and development theory, fully expressed in practice, means not only working with women, but also with, and for, men.
* Introduction
* Caroline Sweetman
* Men, Women, and organisational culture: perspectives from donors
* Anne Coles
* Middle-aged man seeks gender team
* Chris Roche
* Men in the kitchen, women in the office? Working on gender issues in Ethiopia
* Feleke Tadele
* Gender training with men: experiences and reflections from South Asia
* Kamla Bhasin
* Gender training with men: experiences and reflections from East-Africa
* Milton Obote Joshua
* Male involvement in perpetuating and challenging the practice of female genital mutilation in Egypt
* Nadia Wassef
* Men's roles, gender relations, and sustainability in water supplies: some lessons from Nepal
* Shibesh Chandra Regmi and Ben Fawcett
* Tackling male exclusion in post-industrialised settings: lessons from the UK
* Sue Smith
* Challenging machismo to promote sexual and reproductive health: working with Nicaraguan men
* Peter Sternberg
* Men and child-welfare services in the UK
* Sandy Ruxton
* 'Sitting on a rock': men, socio-economic change, and development policy in Lesotho
* Caroline Sweetman
* About the contributors

Caroline Sweetman is Editor of the international journal Gender & Development and works for Oxfam GB.