Book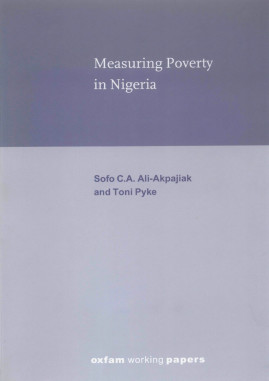 Measuring Poverty in Nigeria
Published: 2003
Pages: 81

eBook: 9780855987954
Paperback: 9780855985028
There is no shortage of written materials about the nature and prevalence of poverty in Nigeria, but they are not all easily accessible by civil-society groups. Measuring Poverty in Nigeria was commissioned by Oxfam GB to support the development of its new programme of poverty-alleviation work in a society that is rich in human and natural resources, and yet suffers major social and economic problems. The report summarises recent evidence from a wide range of sources, including research institutions, civil-society organisations, bilateral and multilateral institutions, government organisations, and individuals. It collates their findings in one comprehensive document which surveys aspects of poverty in Nigeria from social, political, economic, environmental, and technological perspectives.Measuring Poverty in Nigeria should prove useful to development organisations and other representatives of civil society engaged in promoting good governance in Nigeria, It explores the underlying causes of poverty, both urban and rural; presents a wide range of indices; and assesses the prospects for inclusive and equitable development under Nigerias new democratic dispensation.Toni Pyke has worked with immigrants and refugees in the USA and with the Gypsy and Traveller community in the UK and Republic of Ireland. She also works as a private consultant in Nigeria.Sofo Ali-Akpajiak has worked in the development sector with international NGOs, both in Ghana and Nigeria. He is currently the Executive Director of the Development and Learning Centre (DLC), a voluntary organisation based in Nigeria.
Preface

List of abbreviations

Map of Nigeria

1 Context of the report 1

2 Executive summary 2

3 Social development and poverty in Nigeria 5

4 Poverty and the political system in Nigeria 20

5 Poverty and the economy in Nigeria 27

6 Trade and poverty in Nigeria 36

7 Environment and poverty in Nigeria 42

8 Women and poverty in Nigeria 48

9 Technology and poverty in Nigeria 58

10 Conclusion 63

Notes 65

References 70
Toni Pyke
Toni Pyke has worked with immigrants and refugees in the USA and with the Gypsy and Traveller community in the UK and Ireland
Towards Sustainable Public Transport for Disabled People in Nigerian Cities
Odufuwa, B. Olufemi
Studies on Home and Community Science, Vol. 1 (2007), Iss. 2 P.93
https://doi.org/10.1080/09737189.2007.11885239
[Citations: 5]
Perceptions of the Language and Meaning of Poverty in Brunei Darussalam
Gweshengwe, Blessing
Hassan, Noor Hasharina
Ali Maricar, Hairuni Mohamed
Journal of Asian and African Studies, Vol. 55 (2020), Iss. 7 P.929
https://doi.org/10.1177/0021909619900218
[Citations: 1]
Marketing Techniques for Financial Inclusion and Development
Financial Inclusion Through Microenterprises of Rural SHGs
Vyas, Rahul
Nalwaya, Nidhi
2018
https://doi.org/10.4018/978-1-5225-4035-9.ch014
[Citations: 2]
Social Policy in Sub-Saharan African Context
Social Policy in the Development Context: Water, Health and Sanitation in Ghana and Nigeria
Obono, Oka
2007
https://doi.org/10.1057/9780230590984_8
[Citations: 1]
Urbanization, cities, and health: The challenges to Nigeria – A review
Aliyu, AlhajiA
Amadu, Lawal
Annals of African Medicine, Vol. 16 (2017), Iss. 4 P.149
https://doi.org/10.4103/aam.aam_1_17
[Citations: 75]
Boko Haram
Political Economy of Nigeria
David, Ojochenemi J.
Asuelime, Lucky E.
Onapajo, Hakeem
2015
https://doi.org/10.1007/978-3-319-21230-2_3
[Citations: 0]
Faith‐based model as a policy response to the actualisation of the millennium development goals in Nigeria
Raimi, L.
Bello, M.A.
Mobolaji, H.
Humanomics, Vol. 26 (2010), Iss. 2 P.124
https://doi.org/10.1108/08288661011074927
[Citations: 14]
Privatization, Electricity Supply and Economic Development in Nigeria
Ogbuagu, Uchechi Rex
Ubi, Peter Samuel
(2009)
https://doi.org/10.2139/ssrn.1496462
[Citations: 0]
Multidimensional poverty assessment: applying the capability approach
Ele‐Ojo Ataguba, John
Eme Ichoku, Hyacinth
Fonta, William M.
International Journal of Social Economics, Vol. 40 (2013), Iss. 4 P.331
https://doi.org/10.1108/03068291311305017
[Citations: 20]
The International Handbook of the Demography of Race and Ethnicity
Ethnicity, Religion, and Demographic Behavior in Nigeria
Reed, Holly E.
Mberu, Blessing U.
2015
https://doi.org/10.1007/978-90-481-8891-8_21
[Citations: 2]
Different Strokes for Different Folks: The Roles of Religion and Tradition for Transgenerational Entrepreneurship in Family Businesses
Eze, Nonyelum Lina
Nordqvist, Mattias
Samara, Georges
Parada, Maria José
Entrepreneurship Theory and Practice, Vol. 45 (2021), Iss. 4 P.792
https://doi.org/10.1177/1042258720964428
[Citations: 6]
Defining the characteristics of poverty and their implications for poverty analysis
Gweshengwe, Blessing
Hassan, Noor Hasharina
Duan, Xuejun
Cogent Social Sciences, Vol. 6 (2020), Iss. 1
https://doi.org/10.1080/23311886.2020.1768669
[Citations: 8]