Book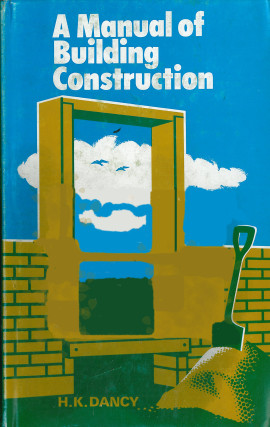 Manual of Building Construction
Published: 1973
Pages: 384

eBook: 9781780442785
Paperback: 9780903031820
This is a practical, illustrated handbook on the construction of small buildings using local materials, suitable for a great variety of ground and climatic conditions. Devised originally for amateur builders, it is based on the author's direct experience, working in the tropics, and is a practical and detailed guide for anyone who, for whatever reason, is unable to work in conventional circumstances.
BOOK ONE

CHAPTER ONE GENERAL APPROACH

CHAPTER TWO DESIGN

CHAPTER THREE ESTIMATES

CHAPTER FOUR LABOUR SELECTION

BOOK TWO MASONRY

CHAPTER ONE TYPES OF WALLS

CHAPTER TWO BRICKMAKING

CHAPTER THREE LAYOUT

CHAPTER FOUR EXCAVATION

CHAPTER FIVE FOOTINGS

CHAPTER SIX FOUNDATION WALLS

CHAPTER SEVEN COURSING

CHAPTER EIGHT FILL

CHAPTER NINE MORTAR

CHAPTER TEN BRICKLAYING

CHAPTER ELEVEN BONDING

CHAPTER TWELVE LINTELS

CHAPTER THIRTEEN

CHAPTER FOURTEEN

CHAPTER FIFTEEN

CHAPTER SIXTEEN WALL TOPS AND GABLES

CHAPTER SEVENTEEN

CHAPTER EIGHTEEN PLASTERING AND POINTING

CHAPTER NINETEEN

CHAPTER TWENTY

BOOK THREE CARPENTRY

CHAPTER ONE LUMBER

CHAPTER TWO DOOR AND WINDOWS

CHAPTER THREE DOORS AND WINDOWS

CHAPTER FOUR SCAFFOLD

CHAPTER FIVE FRAME SETTING

CHAPTER SIX LINTELS AND CALIBERS

CHAPTER SEVEN ROOF FRAME PREPARATION

CHAPTER EIGHT ROOF FRAME ERECTION

CHAPTER NINE ROOF COVERING

CHAPTER TEN CEILINGS

CHAPTER ELEVEN DOOR AND WINDOW HANGING

CHAPTER TWELVE STEPS AND STAIRS

CHAPTER THIRTEEN FURNITURE AND EQUIPMENT

BOOK FOUR CONCRETE

CHAPTER ONE SPECIFICATIONS

CHAPTER TWO CONCRETE FLOORS

CHAPTER THREE CONCRETE UNITS AND EQUIPMENT

CHAPTER FOUR CONCRETE BLOCKS

CHAPTER FIVE CONCRETE WALLS, COLUMNS, JOISTS, BEAMS AND FLOORS

BOOK FIVE FINISHING TRADES

PART ONE GRADING AND DRAINAGE, PLUMBING AND SANITATION.

PART TWO SHEET METAL WORK

PART THREE ELECTRICITY AND LIGHTING HANDLING

PART FOUR PAINTING AND DECORATING

APPENDIX

CONVERSION TABLES
'The book guides the reader through the acquisition of a site, building the structure and all the internal finishings and fittings, including the installation of simple water and sanitation systems. Materials supply is frequently a major problem in developing countries but this book gives ideas on preparing materials such as burned bricks and concrete blocks, mixing paints and the use of readily available materials such as mud, in temporary and semi-permanent conditions'. Orbit (Voluntary Service Overseas newsletter).