Book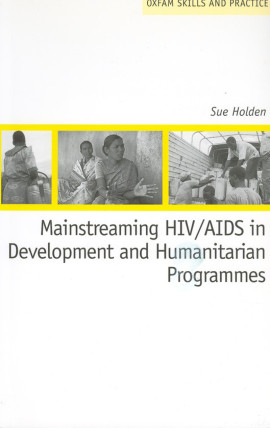 Mainstreaming HIV/AIDS in Development and Humanitarian Programmes
Published: 2004
Pages: 144

eBook: 9780855987909
Paperback: 9780855985301
AIDS has radically changed the contexts in which development and humanitarian organisations operate, and now they need to adapt their policies and practice accordingly. Sue Holden explains the concept of mainstreaming HIV/AIDS in simple language, with practical guidelines for applying the approach in a wide range of sectors.Sue Holdens previous book, AIDS on the Agenda: Adapting Development and Humanitarian Programmes to Meet the Challenge of HIV/AIDS, made the case for mainstreaming, using both theoretical discussion and experiences from the field. She has now adapted that work to produce this shorter and simpler book, to make the idea and practice of mainstreaming more accessible to those who actually do development and humanitarian work, as well as those who manage and fund it.
Acknowledgements

Abbreviations

Glossary

Part I: The case for mainstreaming HIV/AIDS

Introduction

HIV/AIDS and under-development

What does 'mainstreaming' mean?

Why mainstream HIV/AIDS?

Implications for responding to HIV/AIDS

Part II: Ideas for mainstreaming HIV/AIDS

Strategy and guiding principles

Ideas for internal mainstreaming of HIV/AIDS

Ideas for mainstreaming HIV/AIDS in development work

Ideas for mainstreaming HIV/AIDS in humanitarian work

Issues and challenges

Conclusion

Appendix 1: Basic information about HIV and AIDS

Appendix 2: AIDS work and development work: complementary strategies

References

Index
Sue Holden
Sue Holden is an honorary Research Associate at Lancaster University. She has worked as a consultant for DFID, WHO, and several NGOs, including ActionAid and Oxfam.
Learning from diverse contexts: Equity and inclusion in the responses to AIDS
Loewenson, R.
AIDS Care, Vol. 19 (2007), Iss. sup1 P.83
https://doi.org/10.1080/09540120601114733
[Citations: 1]
Planning for climate change in urban areas: from theory to practice
Wamsler, Christine
Brink, Ebba
Rivera, Claudia
Journal of Cleaner Production, Vol. 50 (2013), Iss. P.68
https://doi.org/10.1016/j.jclepro.2012.12.008
[Citations: 163]
Nature-Based Solutions to Climate Change Adaptation in Urban Areas
Mainstreaming Nature-Based Solutions for Climate Change Adaptation in Urban Governance and Planning
Wamsler, Christine
Pauleit, Stephan
Zölch, Teresa
Schetke, Sophie
Mascarenhas, André
2017
https://doi.org/10.1007/978-3-319-56091-5_15
[Citations: 6]
Tackling Informality: Why HIV/AIDS Needs to be a Critical Component of Urban Development Policies
Joseph, Stacey-Leigh
Urban Forum, Vol. 21 (2010), Iss. 2 P.85
https://doi.org/10.1007/s12132-009-9073-x
[Citations: 2]
Making headway in climate policy mainstreaming and ecosystem-based adaptation: two pioneering countries, different pathways, one goal
Wamsler, Christine
Pauleit, Stephan
Climatic Change, Vol. 137 (2016), Iss. 1-2 P.71
https://doi.org/10.1007/s10584-016-1660-y
[Citations: 64]
Confronting catastrophe: norms, efficiency and the evolution of the AIDS battle in the UN
Leon, Joshua K
Cambridge Review of International Affairs, Vol. 24 (2011), Iss. 3 P.471
https://doi.org/10.1080/09557571.2011.617355
[Citations: 2]
A framework for adapting to climate change risk in coastal cities
Wallace, Ben
Environmental Hazards, Vol. 16 (2017), Iss. 2 P.149
https://doi.org/10.1080/17477891.2017.1298511
[Citations: 17]