Book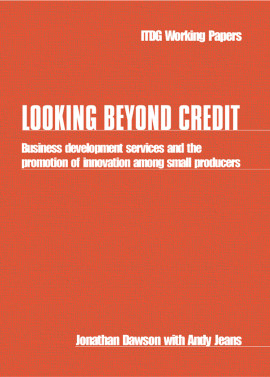 Looking Beyond Credit
Business development services and the promotion of innovation among small producers
Published: 1997
Pages: 56

eBook: 9781780440828
Paperback: 9781853394232
In recent years, credit has become the predominant form of support to small producers, while other forms of business development services have diminished. Looking Beyond Credit assesses the need for targeted business development services other than finance, their growing importance among small producers and how they can work in tandem with credit schemes.
Jonathan Dawson
Jonathan Dawson is a consultant specializing in small enterprise development
Andy Jeans
Andy Jeans, trained and experienced in mechanical engineering, has worked in small enterprise development, mainly in Africa and South Asia.
Civil society and urban poverty - examining complexity
Mitlin, Diana
Environment and Urbanization, Vol. 13 (2001), Iss. 2 P.151
https://doi.org/10.1177/095624780101300213
[Citations: 3]
Lessons from the design of innovation systems for rural industrial clusters in India
Abrol, Dinesh
Asian Journal of Technology Innovation, Vol. 12 (2004), Iss. 2 P.67
https://doi.org/10.1080/19761597.2004.9668599
[Citations: 5]
RURAL HANDICRAFT PRODUCTION IN THE DEVELOPING WORLD: POLICY ISSUES FOR SOUTH AFRICA
Rogerson, C. M.
Agrekon, Vol. 39 (2000), Iss. 2 P.193
https://doi.org/10.1080/03031853.2000.9524938
[Citations: 15]
Can Business Development Services practitioners learn from theories of innovation and services marketing?
Caniëls, Marjolein C.J.
Romijn, Henny A.
de Ruijter-De Wildt, Marieke
Development in Practice, Vol. 16 (2006), Iss. 5 P.425
https://doi.org/10.1080/09614520600792366
[Citations: 6]
Technology Support for Small-scale Industry in Developing Countries: A Review of Concepts and Project Practices
Romijn, Henny
Oxford Development Studies, Vol. 29 (2001), Iss. 1 P.57
https://doi.org/10.1080/13600810124790
[Citations: 10]
Financing Small and Medium Enterprises (SMEs) in Ghana
Quartey, Peter
Journal of African Business, Vol. 4 (2003), Iss. 1 P.37
https://doi.org/10.1300/J156v04n01_03
[Citations: 40]
FOREST-PRODUCT SMMEs IN THE WILD COAST SPATIAL DEVELOPMENT INITIATIVE
NDABENI, L.
South African Geographical Journal, Vol. 83 (2001), Iss. 2 P.159
https://doi.org/10.1080/03736245.2001.9713731
[Citations: 3]
Is Microcredit a Reverse Innovation?
Ashta, Arvind
Mor, Surender
FIIB Business Review, Vol. 11 (2022), Iss. 2 P.225
https://doi.org/10.1177/2319714520962924
[Citations: 1]
The market development approach to SMME development: Implications for local government in South Africa
Rogerson, Christian M.
Urban Forum, Vol. 17 (2006), Iss. 1 P.54
https://doi.org/10.1007/BF02681258
[Citations: 5]