Book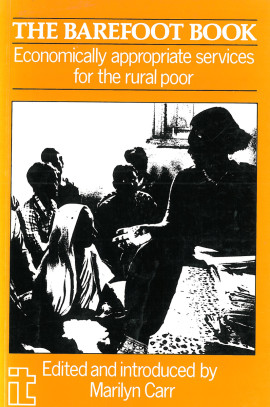 Barefoot Book
Economically appropriate services for the rural poor
Published: 1989
Pages: 104

eBook: 9781780441719
Paperback: 9781853390142
Barefoot Book explores the potential of `intermediate' services for the rural poor, using examples in the fields of health care, law, administration, economics, banking, management, craft, mechanics, building and geology.
Acknowledgements (vi)

1 Introduction Marilyn Carr 1

2 Doctors in China - the origins of the barefoot approach Katherine Elliott 4

3 Vets in Nepal and India- the provision of barefoot animal health services David Hadrill 14

4 Lawyers in Bangladesh - an experiment in legal literacy Sobhan 20

5 Economists in Ecuador and Nepal - the barefoot approach to rural development planning Andrew Scott 29

6 Bankers in Bangladesh- giving credit where credit is due Ken Marshall 38

7 Management Consultants in Kenya - the provision of barefoot business services Malcolm Harper 49

8 Village Artisans in Botswana- the training of barefoot technicians David Inger 57

9 Mechanics in India- Village-level handpump maintenance in action Sanjit Roy 63

10 Builders in Iran, Guinea and the Sudan - the barefoot approach to shelter John Norton 71

11 Geologists in Sri Lanka - the barefoot approach to natural resource development Michael Katz 81

12 Lessons learned Marilyn Carr 88
Marilyn Carr Marilyn Carr is Chief of the Economic Empowerment Section of the United Nations Development Fund for Women. She is a development economist with over 20 years experience in Asia and Africa and specializes in the fields of small enterprise development and technology choice and diffusion.