Book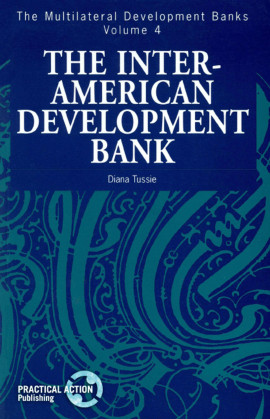 The multilateral banks are powerful forces in the international community, providing loans of more than $250 billion to developing countries over the last half-century. The best known of these, the World Bank, has been studied extensively, but the 'regional development banks' are little understood even within their own geographic regions. This volume describes the difficulties faced by the Inter-American Development Bank since the 1960s and its role and new objectives in the 1990s.
List of Tables and Figures ix

Foreword, Osvaldo Sunkel xi

Preface, Roy Culpeper xiii

Acknowledgments xv

List of Acronyms xvii

1 Introduction 1

The Contribution of the Inter-American Development

Bank in Historical Perspective, 2

The Borrowing Member Countries, 7

The Way Forward, 9

Part 1 Historical Setting and Record of Performance

2 A Brief History of the Bank 17

Institutional Framework, 17

3 Evolution of the Lending Program 35

Basic Operational Policies, 35

Resources, 37

Country Allocations, 42

Sectoral Distribution, 46

Regional Economic Collapse, 51

4 Borrowing Country Experience 57

Country Studies, 57

Part 2 Development Agenda

5 Loan Performance and Institutional Governance 79

Experience Under the Low-Income Goal, 80

New Institutional Organization, 87

Loan Quality, 90

6 Comparative Advantage and Regional Leadership 95

Relations with the World Bank, 96

Development of Policy-Based Lending, 103

Social Sector Lending, 120

Regional Leadership, 114

7 Resource Mobilization and Portfolio Management 121

Resource Flows, 222

IDB's Portfolio, 224

Participation of the IDB in the Region's Recovery, 228

Mobilization of Concessional Resources, 232

Operational Efficiency, 234

8 Looming Development Challenges for the Bank 139

Poverty and Inequality, 240

The Private Sector, 142

Regional Integration and Cooperation, 145

Role of the State and Institution Building, 147

Bibliography 151

Index 155

About the Book and Author 165
Diana Tussie
Diana Tussie is senior research fellow at the Facultad Latinoamericana de Ciencias Sociales (FLACSO) in Argentina. She is coeditor (with David Glover) of The Developing Countries in World Trade: Policies and Bargaining Strategies (Lynne Rienner, 1993).