Book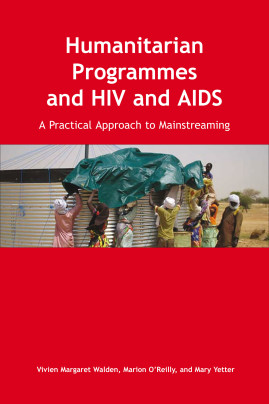 Humanitarian Programmes and HIV and AIDS
A Practical Approach to Mainstreaming
Published: 2007
Pages: 124

eBook: 9780855987695
Paperback: 9780855985622
This manual will help field staff to mainstream HIV andAIDS in humanitarian emergencies. It assumes someknowledge of humanitarian programming and is intended to build staff skills in addressing the underlying causes of vulnerability to HIV infection and the consequences of HIV and AIDS, particularly in rapid-onset emergencies. The authors draw on experience in the field and offer practical recommendations on how to make sure that HIV and AIDS is considered when responding to humanitarian crises. The book explains both how HIV affects emergencies and how emergencies affect HIV, as well as identifying the particular needs of potential vulnerable groups. There is guidance particularly for managers in the planning stage but the book also suggests how to mainstream HIV and AIDS throughout the emergency project cycle. It includes useful checklists and planning tools with examples of inductions, trainings and awareness-raising sessions both for staff and for community members. The CD ROM to accompany the manual features the full text of the book plus training materials for use in the field.
Introduction

Section 1:What is HIV and AIDS mainstreaming?

1.1 Who is this book for?

1.2 What is mainstreaming?

1.3 HIV and emergencies

1.4 What mainstreaming is not

Section 2:Why mainstream HIV and AIDS in emergencies?

2.1 Why get involved?

2.2 How emergencies can result in spreading HIV

2.3 How HIV can aggravate the impact of emergencies

2.4 Vulnerable groups

Section 3:How to mainstream HIV and AIDS in emergencies

3.1 Pre-emergency preparedness

3.2 Assessment

3.3 Implementation

3.4 Monitoring and evaluation

Section 4:Advice for managers to help in planning

4.1 Internal (staff both national and international)

4.2 External (mainstreaming in the programme)

Section 5:Activities and exercises

5.1 Induction for staff

5.2 A one-day training for staff

5.3 Community meetings

5.4 A one-day training for community members

5.5 Activities

Section 6: Summary

Appendix 1: Everything you may have forgotten about HIV and AIDS

Appendix 2: Factors increasing HIV in emergencies, and possible responses

Appendix 3: Suggestions for answers to Activity 7 (Case Study)

Appendix 4: Activity cards

Notes

Bibliography

Index
Vivien Margaret Walden
Vivien Walden is the global humanitarian monitoring, evaluation and learning adviser for Oxfam GB. She is currently piloting a methodology for measuring change in the lives of affected communities after a disaster response. Vivien holds a PhD from the University of Manchester in evaluation of behaviour change, with HIV in Zimbabwe as the area of research.