Book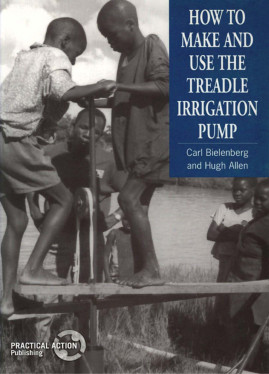 How to Make and Use the Treadle Irrigation Pump
Published: 1995
Pages: 88

eBook: 9781780444093
Paperback: 9781853393129
The treadle irrigation pump is able to lift up to seven thousand litres of water per hour using the power of the human body, and can be made locally at low cost in small-scale metalworking shops. Its acceptance in Bangladesh where it was first developed in 1984 is extraordinary, with over 500,000 pumps estimated now to be in use. The current design in this manual has evolved from the Bangladesh original into a fully portable pump with both lift and pressure capacity and is especially good for use in permeable soils where water cannot easily be distributed through channels.
Foreword vii

Acknowledgements viii

Introduction ix

What's so special about the Treadle Pump? 1

Assessing the local market for Treadle Pumps 6

Cost Issues 11

Treadle Pump manufacturing instructions •. 15

1 Making the pump cylinders 16

2 Making the pump body 22

3 Making the handle and treadle support 37

4 Making the piston assembly 42

5 Making and installing the valves 51

6 Making the wooden parts of the pump 54

7 Final assembly of the pump '. 57

Treadle Pump User's Manual 60

Appendix A Engineering drawing set 67

Appendix B Tool kit components 77
Carl Bielenberg
Carl Bielenberg, inventor and philanthropist, is the founder of the "Better World Workshop" based in East Calais, Vermont. Carl is well-known in the development community as the creator of a hand-operated oilseed press and foot-operated irrigation pump, and is an expert in sustainable energy and power-generation systems. He designed the VitaGoat boiler and is currently designing a vegetable and fruit dryer to run off the same boiler.
Creating wealth from groundwater for dollar-a-day farmers: Where the silent revolution and the four revolutions to end rural poverty meet
Polak, Paul
Yoder, Robert
Hydrogeology Journal, Vol. 14 (2006), Iss. 3 P.424
https://doi.org/10.1007/s10040-005-0011-2
[Citations: 18]