Book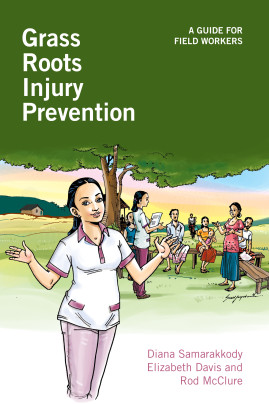 Books about injury prevention tend to explain only the principles and leave it to the practitioner to apply them in the course of their everyday interactions. Thus there is a large gap, between "what works in principle" and "how to make it work in practice". The purpose of this book is to translate the principles of injury prevention to the specific circumstances that community workers face.
The GRIP Guide contains eight modules. The first module gives an overview of the principles of injury prevention and safety promotion. Modules two through six describe how to address the five categories / types of injuries (burns, falls, drowning, transport injuries, poisoning). Module seven provides a generic approach that covers other unintentional injuries and module eight deals with the response to intentional injuries (violence).
This guide takes the form of a series of exercises that reader can use when working with community members to promote community participation and intersectoral collaboration as a means of achieving a safe environment.
Diana Samarakkody
Diana Samarakkody is with the National Program Manager for Injury Prevention & Control, Non Communicable Disease Unit, Ministry of Health, Sri Lanka.
Elizabeth Davis
Elizabeth Davis is a Research Officer with Injury Prevention and Control (Australia) Ltd. and has more than 20 years' experience in health promotion, health policy, and programme evaluation.
Rod McClure
Professor Rod McClure is Director of the Monash Injury Research Institute