Book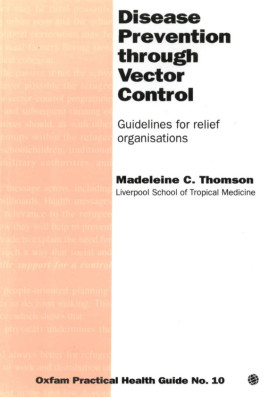 Disease Prevention Through Vector Control
Guidelines for relief organizations
Series: Practical Health Guides
Published: 1995
Pages: 128

eBook: 9780855987077
Paperback: 9780855983062
Over the years, Oxfam has been involved in a wide variety of health-related projects. The Practical Health Guides draw on this experience to put forward ideas on best practice in the provision of health care and services in developing countries The number of refugees and displaced persons has increased greatly in recent years. At least 80 per cent of them are living in tropical or semi-tropical countries where vector-borne diseases, such as malaria, dengue fever and sleeping sickness are common and cause widespread sickness and death in the crowded conditions of refugee camps. This work is intended to help development workers and planners to identify and assess the risks of vector-borne diseases in a camp and to plan and implement cost-effective ways of controlling them. The main vector-borne diseases are described, the importance of identifying the particular disease and its vector and of considering a variety of methods of control is emphasized. The book discusses the need for a community-based approach to vector control, the safe use of insecticides and selection of spraying equipment. Also included are lists of suppliers of insecticides and equipment, sources of advice and recommended texts.
* Acknowledgements

1. Vector-borne diseases and refugees

2. Major vecto-borne diseases and their control

3. Vector-control strategies

4. Insecticides

5. Selection of spraying equipment

* Appendix 1: Addresses of relevant organisations

* Appendix 2. Addresses of commercial companies
Madeleine Thomson
Madeleine Thomson is a Senior Research Scientist at the International Research Institute for Climate and Society (IRI) with over eight years of service in the management team as Director of Impacts Research, Chair of the Africa Regional Programme and Senior advisor to the PAHO-WHO Collaborating Centre for malaria and other climate sensitive diseases. She currently leads the Health portfolio at IRI.
Malaria epidemiology and control in refugee camps and complex emergencies
Rowland, M.
Nosten, F.
Annals of Tropical Medicine & Parasitology, Vol. 95 (2001), Iss. 8 P.741
https://doi.org/10.1080/00034983.2001.11813694
[Citations: 24]
Topley & Wilson's Microbiology and Microbial Infections
Control of Parasites, Parasitic Infections, and Parasitic Diseases
Molyneux, David H.
2010
https://doi.org/10.1002/9780470688618.taw0170
[Citations: 0]
Patterns of change in vector-borne diseases
Molyneux, D. H.
Annals of Tropical Medicine & Parasitology, Vol. 91 (1997), Iss. 7 P.827
https://doi.org/10.1080/00034983.1997.11813208
[Citations: 1]