Book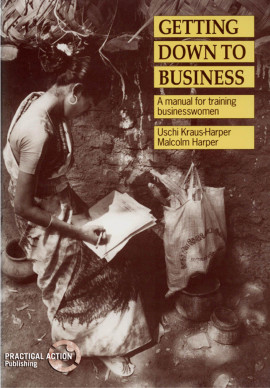 Getting Down to Business
A training manual for businesswomen
Published: 1992
Pages: 176

eBook: 9781780445045
Paperback: 9781853391132
A manual designed to assist trainers to organize and conduct more effective courses for women in business. The vital contribution of enterprising women is increasingly being recognized and more institutions are now organizing special training programmes.
Acknowledgements vii

This book: its purpose and use

Enterprising women 1

Should women be trained

separately from men? 4

Who should be trained and how

should they be chosen? 8

How to use this manual 12

Timetable suggestions 16

Evaluation 20

You and your business

Course introduction 22

The Enterprise Experience I:

Generating the business idea

and identifying the people to

do it 25

Enterprising women 30

Successful businesswomen 33

Meeting a successful

businesswoman 37

Business ideas 39

The Enterprise Experience II:

Report back 42

The Enterprise Experience HI:

Business plan preparation 44

What do you and your customers

need

Resources 52

Finding out about the market 56

The Enterprise Experience IV:

page

Business plan presentation

The envelope game

Costing and pricing

The marketing mix

Personal selling

Financial management

Basic business records

Cash flow

Profit and loss account

Balance sheet

Break even point

Sources and uses of money

The Enterprise Experience V:

Presentation of final results

Planning your business

Introduction to the business plan

Planning workbook

Preparation for business

investigation

Report back

The impact of your business

Completing the planning

workbook

Practice business plan

presentation

Presentation to the banker's panel

Follow-up

Reading list
Uschi Kraus-Harper
Uschi was born in Bremen, Northern Germany, studied economics, sociology and social psychology at Johann Wolfgang Goethe University in Frankfurt am Main and graduated in 1981 as Diplom-Soziologin (MA in Sociology); moved to England in 1988; PhD (doctorate) from the Faculty of Economics at Imperial College London in 1994. She has lived and worked in many countries all over the world, consulting, teaching, researching.