Book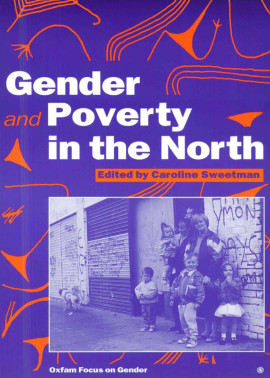 Gender and Poverty in the North
Published: 1998
Pages: 72

eBook: 9780855987305
Paperback: 9780855983932
International development policy-makers of the industrialized countries are focusing on understanding and tackling northern poverty. The articles in this collection examine the phenomenon of the globalization of poverty and unemployment as it relates to gender identity.
Editorial

Caroline Sweetman

From the South to the North: evolving perspectives on gender and poverty

Fatma Alloo and Wendy Harcourt

Gender, race, and the 'underclass': the truth behind the American dream

Sara Chamberlain

Power and dignity: women, poverty, and Credit Unions

Annette Rimmer

Participation begins at home: adapting participatory development approaches from Southern contexts

Ros David and Yvonne Craig

The street press: homelessness, self-help, and social identity

Tessa Swithinbank

Giving women the credit: the Norwich Full Circle Project

Ruth Pearson and Erika Watson

Building community capacity: Hull and East Yorkshire PRA network

Tilly Sellers

Interview: Helen Carmichael of LEAP Theatre Workshop

Resources

Compiled by Sara Chamberlain

Further reading

Organisations

Campaigns

Web sites

Index to Volume 5
Caroline Sweetman was previously Editor of the international journal Gender & Development.