Book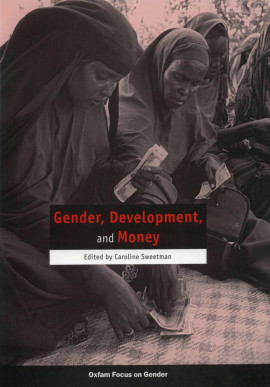 Gender, Development, and Money
Published: 2001
Pages: 96

eBook: 9780855987428
Paperback: 9780855984533
Focusing upon microfinance and micro-credit issues, the contributors to this volume ask just what role does earning play in transforming the power relations between men and women? How far does a change in gender roles affect beliefs about who has the power in the household, the marketplace or that state? And how can one value the unpaid work that most women perform in the home and family context?
# Editorial

Caroline Sweetman

# Gender bias in finance

Irene van Staveren

# Rural women earning income in Indonesian factories: the impact on gender relations

Peter Hancock

# Just another job? Paying for domestic work

Bridget Anderson

# Conceptualising women's empowerment in societies in Cameroon: how does money fit in?

Joyce B. Endeley

# Pathways to empowerment? Reflections on microfinance and transformayion in gender relations in South Asia

Juliet Hunt and Nalini Kasynathan

# Mama Cash: investing in the future of women

Lilianne Ploumen

# Money that makes a change: community currencies, North and South

Gill Seyfang

# 'More and more technology, women have to go home': changing skill demands in manufacturing and Caribbean women's access to training

Daphne Jayasinghe

# An income of one's own: a radical vision of welfare policies in Europe and beyond

Ingrid Robeyns

# Resources

Compiled by Erin Murphy Graham

# Publications

# Organisations

# Electronic Resources

# Videos
Caroline Sweetman was previously Editor of the international journal Gender & Development.
Urban agriculture: addressing practical and strategic gender needs
Hovorka, Alice J.
Development in Practice, Vol. 16 (2006), Iss. 1 P.51
https://doi.org/10.1080/09614520500450826
[Citations: 30]
Time's up: Analyzing the feminist potential of time banks
Wilson‐Thomas, Juliette
Gender, Work & Organization, Vol. 28 (2021), Iss. 6 P.2114
https://doi.org/10.1111/gwao.12691
[Citations: 2]