Book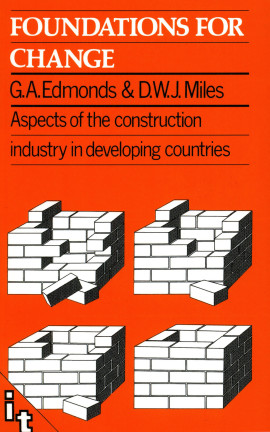 Foundations for Change
Published: 1984
Pages: 152

eBook: 9781780442242
Paperback: 9780946688005
The construction industry pattern of most industrialized countries is often unsuited to the needs of developing countries. Case studies in Ghana and Sri Lanka suggest a new approach, and illustrate how existing frameworks could be changed.
9781780442242.000 (page 1)
9781780442242.001 (page 9)
9781780442242.002 (page 29)
9781780442242.003 (page 57)
9781780442242.004 (page 89)
9781780442242.005 (page 118)
9781780442242.006 (page 139)

Geoff Edmonds
In 2005, Geoff Edmonds is Programme Coordinator at ILO/ASIST-Asia Pacific, Bangkok, Thailand
Derek Miles
Dr Derek Miles is a Fellow of the Institution of Civil Engineers and the Chartered Management Institute, a Liveryman of the Worshipful Company of Engineers and a Freeman of the City of London.