Book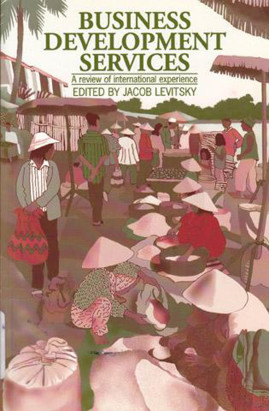 Business Development Services
A review of international experience
Published: 2000
Pages: 336

eBook: 9781780442808
Paperback: 9781853395062
This book provides a wide review of experience of donor agencies in designing and implementing business development services for small and medium enterprises (SME). The papers, from the International Conference on Business Development Services, presented in this book assess the performance of the development services operating within the various developing countries.They explore new and innovative approaches to achieving sustainable BDS services and ways of achieving greater cost-effectiveness in their delivery.
Preface

Contributors

List of Acronyms

PART I, INTRODUCTION AND BACKGROUND

1. Summary report

JACOB LEVITSKY

2. The emerging strategy for building BDS markets

WILLIAM STEEL, JIM TANBURN AND KRIS HALIBERG

PART II, ENTREPRENEURSHIP DEVELOPMENT PROGRAMMES

3. The case of CEFE - a new look at entrepreneurship

RAINER KOI.SHORN AND UWE WEIHERT

PART III, INTEGRATED SME CAPACITY BUILDING

4. The EMPRETEC Ghana Foundation

ALAN GIBSON

5. Development projects: a partnership experience in Chile

.I.M. BENAVENTE

6. High-impact, cost-effective BDS through NGOs

KENNETH E. LOUCKS

7. Comparing two west African BDS experiences

MICHEL BOTZUNG

PART IV, BUSINESS CENTRES

8. Swiss contact: business centre approach in Indonesia and the Philippines

ALAN GIBSON AND ROBERT HITCHINS

9. Enterprise development centres in Latin America

ANTONIO GARCIA TABUIENCA AND JUAN JOSE LLISTERRI

10. The operation of three Romanian Business Centres

RICHARD M. KENNEDY, PIHILIPPE SCHOLTES AND CASPER SONESSON

PART V, ADVISORY SERVICES

11. Enterprise support services for Africa project

MARY M. LYNCH AND KWAME YOUNG-GYAMPO

PART VI, TRAINING AND COUNSELLING

12. Kenya Voucher Programme for training and BDS

THYRA A. RILEY AND WII.LIAM F. STI:EL

13. Matching grant schemes

DANIEL CRISAFULU

PART VII, BUSINESS LINKAGES

14. Business linkages in Zimbabwe: the Manicaland Project

JOHN GRIERSON, DONALD C. MEAD AND EDWARD KAKORE

15. Global experience in industrial subcontracting and partnerships

ANDRE. DE. CROMBRUGGHE. AND .I. C. MONTES

16. Clusters and network development in developing countries

GIOVANNA CEGLIE AND MARCO DINI

PART VIII, BUSINESS INCUBATORS

17. Nurturing entrepreneurs: incubators in Brazil

RUSTAM LALKAKA AN/J DANIEL SHAFFER

18. Russia: the Volkhov International Business Incubator

IDA F:S. SCHMERTZ

PART IX, MARKETING

19. AMKA, Tanzania: Export marketing development services

ALAN GIBSON ANn LEON TOMESEN

20. Marketing micro and small enterprise in Latin America

LENE MIKKELSEN

PART X, TECHNOLOGY

21. Business development and technology improvement services in India

SANJAY SINHA

22. A market-based approach to BDS: the FIT project

JIM TANBURN

PART XI, VIABILITY AND MEASUREMENT OF BDS

23. The financial viability of BDS

LARA GOLDMARK

24. Measuring BDS performance - A summary framework

MARY MCVAY
Jacob Levitsky
Jacob Levitsky is a development consultant based in the UK, and was formerly Small Enterprise Advisor for the World Bank in Washington DC.