Book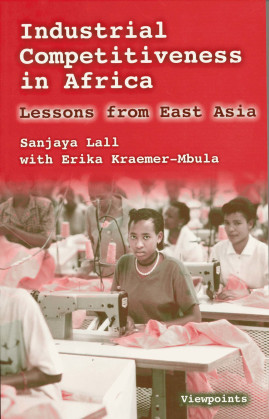 Industrial Competitiveness in Africa
Lessons from East Asia
Sanjaya Lall, Erika Kraemer-Mbula
Published: 2005
Pages: 136

eBook: 9781780440811
Paperback: 9781853396182
This book describes Africa's position within the current industrial global setting and analyses the recent performance of African manufacturing relative to that of other developing regions. It stresses the rapidly changing technological challenges faced by African economies and Africa's poor response to the threats posed by other developing regions such as East Asia. This analysis is based on the examination of a set of drivers of competitiveness related to technology, skills and foreign direct investment. With some exceptions for the two outliers (South Africa and Mauritius), African scores in all these indicators are far behind the international dynamics. The observation of these drivers suggests that the basic problem of African industry lies not in the investment climate (which can certainly be improved) or in gaining market access to rich countries but in the low level of its industrial capabilities. It concludes with a set of policy options, enhancing the role of the international community and the need to improve the effectiveness of African 'national learning systems'. This book points out the urgency of reconsidering current African industrial strategy and evolving a new strategy focused on building capabilities.
1. Introduction

2. Why industrialization is important for Africa

3. The changing setting for industrialization

4. Does Africa need technological effort to industrialize?

5. African industrial performance

6. African export performance

7. African competitive lags: framework conditions

8. Structural factors in competitiveness: technology, skills, and FDI

8.1 Analytical background

8.2 Skills and technology effort in Africa

8.3 Foreign direct investment

9. Policy options

9.1 Thinking in terms of national learning systems

9.2 Improving the investment climate further

9.3 Managing trade liberalization

9.4 Attracting and benefiting from FDI

9.5 Human capital

9.6 Technology support and infrastructure

9.7 Strategic policy capability

10. The role of the international community

11. Conclusions

References
Sanjaya Lall
The late Sanjaya Lall was Professor of Development Economics at the University of Oxford and a Fellow of Green College. He consulted for many international organizations, advised many governments, and worked with the Ford Foundation and the Rockefeller Foundation on issues of competitiveness, innovation and industrialization. He published 40 books and monographs, and more than 200 articles in academic journals and books.
Erika Kraemer-Mbula
Erika Kraemer-Mbula is a PhD. Student in the Department of International Development, University of Oxford.
The World is Bumpy: Power, Uneven Development and the Impact of New ICTS on South African Manufacturing
Carmody, Pádraig
Human Geography, Vol. 7 (2014), Iss. 1 P.1
https://doi.org/10.1177/194277861400700108
[Citations: 1]
Exhilarating, Exhausting, Intriguing: The Report of the Africa Commission
Maxwell, Simon
Development Policy Review, Vol. 23 (2005), Iss. 4 P.483
https://doi.org/10.1111/j.1467-7679.2005.00298.x
[Citations: 6]
Growth and structural change in Africa: development strategies for the learning economy
Lundvall, Bengt-Åke
Lema, Rasmus
African Journal of Science, Technology, Innovation and Development, Vol. 6 (2014), Iss. 5 P.455
https://doi.org/10.1080/20421338.2014.979660
[Citations: 28]
Institutions and entrepreneurship development: High-technology indigenous firms in China and Taiwan
Tzeng, Cheng-Hua
Beamish, Paul W.
Chen, Shih-Fen
Asia Pacific Journal of Management, Vol. 28 (2011), Iss. 3 P.453
https://doi.org/10.1007/s10490-010-9244-2
[Citations: 19]
Exploring Africa's Economic Recovery
Carmody, Pádraig
Geography Compass, Vol. 2 (2008), Iss. 1 P.79
https://doi.org/10.1111/j.1749-8198.2007.00074.x
[Citations: 5]
The Power of the Chinese Dragon
Do Chinese Exports Crowd-out African Goods? An Econometric Analysis by Country and Sector
Giovannetti, Giorgia
Sanfilippo, Marco
2016
https://doi.org/10.1007/978-1-137-57449-7_2
[Citations: 2]
State-led Catching up Strategies and Inherited Conflicts in Developing the ICT Industry: Behind the US–East Asia Semiconductor Disputes
Ning, Lutao
Global Economic Review, Vol. 37 (2008), Iss. 2 P.265
https://doi.org/10.1080/12265080802021243
[Citations: 7]
Book Review Symposium
Development Policy Review, Vol. 26 (2008), Iss. 1 P.113
https://doi.org/10.1111/j.1467-7679.2008.00401.x
[Citations: 1]