Book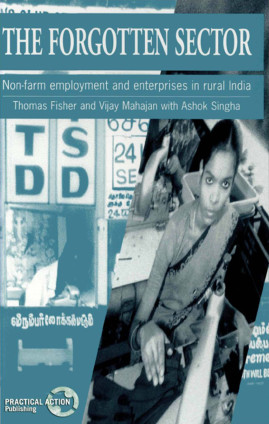 Forgotten Sector
Non-farm employment and enterprises in rural India
Published: 1997
Pages: 296

eBook: 9781780442235
Paperback: 9781853394089
This book provides the most comprehensive analysis of the rural non-farm sector in India available for any developing country, and puts forward a coherent and wide-ranging strategy for promoting the sector to meet national goals of full employment, economic growth and poverty alleviation.
MAP OF INDIA VlU

ACKNOWLEDGEMENTS X

ABBREVIATIONS xiii

GLOSSARY xvi

TABLES xvii

FIGURES xix

1. Introduction 1

Employment in India 1

Policies and politics 5

Definitions: what is the rural non-farm sector? 8

A brief review of some research on the rural non-farm sector 13

A brief introduction to conceptual frameworks 16

Sub-sectoral analysis 16

Institutional analysis 18

Outline of the book 19

2. The rural non-farm sector according to aggregate data 21

Overview and summary 21

The current status of RNFS employment 21

The growth of RNFS employment 23

National data on the rural non-farm sector 25

Employment in the RNFS 26

Growth of RNFS employment 28

RNFS employment by industrial categories and sub-sectors 29

Growth of employment in RNFS sub-sectors 31

Emergent RNFS sub-sectors 33

Female employment, child labour and educational levels in the

RNFS 34

Incomes in the RNFS 39

Enterprises in the RNFS: numbers and size 42

Some inter-state comparisons 46

Conclusions 53

3. Sub-sectors in the rural non-farm sector 55

Competitive versus comparative advantage 56

The leather sub-sector 59

Other sub-sectors 63

Food processing 63

Other primary processing 64

Traditional manufacturing 66

Modern manufacturing 67

Services 70

Technology 72

Conclusions 78

Different types of sub-sectors 78

Factor conditions and supporting industries 80

Size and structure of firms 81

Demand conditions 83

4. Regulatory policies and agencies 85

Specific regulatory policies 85

An overall assessment of regulatory policies 100

Regulatory agencies 104

Conclusions 111

The continuing rationale for regulation 111

Recommendations for reforming regulations 113

5. Promotional policies and agencies 115

Selected promotional policies and agencies 117

The Rural Industries Projects 117

Promotion of traditional rural industries 118

Technology development, training and technology institutes 121

Other promotional policies and their agencies 128

Overall assessment of promotional policies and agencies 136

Promotional strategies 138

Promotional agencies 140

Conclusions and recommendations 144

6. Rural credit policies and agencies 146

The rural financial sector in India 146

Rural credit and the non-farm sector 151

Aggregate data on rural credit to the RNFS 153

Perspectives from fieldwork 158

A closer look at the banks 163

Informal-sector credit 167

Lessons from alternative and innovative financial agencies 172

Conclusions and recommendations 176

VI

7. The organization and representation of producers 180

Representation and the right to association 180

Trade unions 183

Small-scale industry associations 184

Other industry associations 186

Cooperative societies 191

The role of NGOs in catalysing producer associations 195

The logic of collective action 196

A political analysis of the representation and organization of

producers 199

Conclusions and recommendations 201

8. The rural non-farm sector in the future 204

Potential for growth of rural non-farm employment 204

Economic growth, rural livelihoods and incomes 204

Projections for rural employment growth 208

Strategies for the future 212

The role of government 212

Preconditions for a dynamic RNFS: agriculture and infrastructure 215

Sub-sectoral focus 216

Reorienting organizations 223

Conclusion 232

Appendix 1: Study methodology 233

Appendix 2: Additional data 241

Appendix 3: Overview of the rural non-farm sector in eight states 249

BIBLIOGRAPHY 256

INDEX 266
Thomas Fisher
Thomas Fisher works at the New Economics Foundation in London on issues of development finance, organizational development and accountability in both southern and northern countries Previously he was engaged in development training and research in India for five years.
Rural Farm and Non-farm Linkages in Uttar Pradesh
Pandey, Aviral
Journal of Land and Rural Studies, Vol. 3 (2015), Iss. 2 P.203
https://doi.org/10.1177/2321024915598882
[Citations: 2]
The Political Economy of Uneven Rural Development
Development Policies of the Indian State for the Nonagricultural Sector
Bordoloi, Sudarshana
2020
https://doi.org/10.1007/978-981-15-4503-0_6
[Citations: 0]
Changing Contours of Indian Agriculture
Changes in Work Patterns of Rural Women in the Context of Structural Transformation in India
Sebastian, Nancy
2017
https://doi.org/10.1007/978-981-10-6014-4_13
[Citations: 0]
Household strategies and rural livelihood diversification
Ellis, Frank
Journal of Development Studies, Vol. 35 (1998), Iss. 1 P.1
https://doi.org/10.1080/00220389808422553
[Citations: 973]
Experiencing the New World of Work
Politics, Imaginaries and Others in the New World of Work
2021
https://doi.org/10.1017/9781108865814.012
[Citations: 0]
Poverty decline, agricultural wages, and nonfarm employment in rural India: 1983-2004
Lanjouw, Peter
Murgai, Rinku
Agricultural Economics, Vol. 40 (2009), Iss. 2 P.243
https://doi.org/10.1111/j.1574-0862.2009.00373.x
[Citations: 70]
The Political Economy of Uneven Rural Development
Conceptualizing the Rural Nonfarm Sector: A Critique and Reconstruction
Bordoloi, Sudarshana
2020
https://doi.org/10.1007/978-981-15-4503-0_3
[Citations: 0]
Entrepreneurial Motivations in Start-up and Survival of Micro- and Small Enterprises in the Rural Non-Farm Economy
Mishra, Atul
Journal of Small Business & Entrepreneurship, Vol. 18 (2005), Iss. 3 P.289
https://doi.org/10.1080/08276331.2005.10593345
[Citations: 8]
Globalization, Social Exclusion, and Work: With Special Reference to Informal Employment and Gender
Carr, Marilyn
Chen, Martha
(2004)
https://doi.org/10.2139/ssrn.908166
[Citations: 10]
The Political Economy of Uneven Rural Development
Rural Nonagricultural/Nonfarm Sector in the International Development Studies Literature
Bordoloi, Sudarshana
2020
https://doi.org/10.1007/978-981-15-4503-0_2
[Citations: 0]
EXPLORING PARTNERSHIP ENTERPRISE FOR THE RURAL POOR THROUGH AN EXPERIMENTAL POULTRY PROGRAM IN BANGLADESH
MAKITA, RIE
Journal of Developmental Entrepreneurship, Vol. 12 (2007), Iss. 02 P.217
https://doi.org/10.1142/S1084946707000642
[Citations: 1]
Enhancing microfinance outreach through market‐oriented new service development in Indian regional rural banks
Gounaris, Spiros
Megicks, Philip
Mishra, Atul
Lean, Jonathan
International Journal of Bank Marketing, Vol. 23 (2005), Iss. 1 P.107
https://doi.org/10.1108/02652320510577393
[Citations: 22]
Distribution and use of cash income from basket and mat crafting: implications for rural livelihoods in the Eastern Cape, South Africa
Adam, Y. O.
Shackleton, C. M.
Forests, Trees and Livelihoods, Vol. 25 (2016), Iss. 3 P.199
https://doi.org/10.1080/14728028.2016.1186576
[Citations: 5]
Farm sector, non-farm employment and rural livelihood: A study
Sinha, Archana
Social Change, Vol. 37 (2007), Iss. 1 P.50
https://doi.org/10.1177/004908570703700104
[Citations: 2]
Experiencing the New World of Work
Bypassing the Stage of Copper Wire?
Burrell, Gibson
2021
https://doi.org/10.1017/9781108865814.013
[Citations: 0]
Failing Financial and Training Institutions: The Marginalization of Rural Household Enterprises in the Indian Punjab
Simmons, Colin
Supri, Salinder
Journal of Economic Issues, Vol. 33 (1999), Iss. 4 P.951
https://doi.org/10.1080/00213624.1999.11506223
[Citations: 3]
Innovation in India
Pro-poor Innovation Making, Knowledge Production, and Technology Implementation for Rural Areas
Abrol, Dinesh
2014
https://doi.org/10.1017/CBO9781139794640.012
[Citations: 5]