Book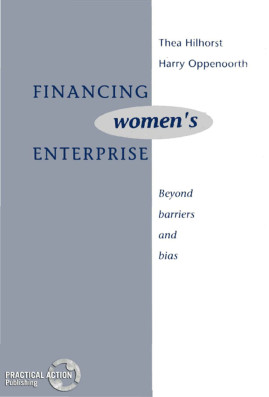 Financing Women's Enterprise
Beyond barriers and bias
Thea Hilhorst, Harry Oppenoorth
Published: 1992
Pages: 104

eBook: 9781780444994
Paperback: 9781853391743
Emphasises how to improve the access of poor self-employed women to financial services. Includes a review of current knowledge about women's need for finance, how this is presently met and how this could be improved.
Preface 7

Acknowledgements 8

Introduction 9

1 Credit interventions: context and history 15

Macroeconomy and policy environment

Experience with rural credit schemes

Summary

2 Women's work and income 23

Household based production

Control over income

Reproductive work

The importance of self-employment

Characteristics of women's enterprises

Dynamics and development patterns of women's enterprises

Summary

3 Women and finance 33

Savings

Decision making and place in production

Possibilities, problems and consequences of finance

Summary

4 Informal finance 43

Informal finance sources

Self-finance and loans from relatives and friends

Rotating and non-rotating funds

Moneylenders and pawnbrokers

Wholesale traders and shopkeepers

Sharecropping arrangements

Summary

5 Development programmes and 'semi-formal' 53

financial institutions

Credit within multiple service programmes

Income generating projects for women

Rotating and revolving funds

Savings and credit unions and cooperatives

Peoples' banks

Summary

6 Women and the formal financial system 69

Formal financial institutions and poor women

Barriers and possible solutions: a challenge to banks

Risk reduction

Transaction costs and incentives to banks

Long-term access to and sustainability of financial services

The performance of financial institutions

Summary

Epilogue 87

Appendix 1: Gender 91

Appendix 2: Symposium participants 93

Appendix 3: Symposium papers 95

Bibliography 97

6 FINANCING
Thea Hilhorst
Thea Hilhorst is professor of Humanitarian Aid and Reconstruction at Wageningen University. Her current research activities concentrate on the social aspects of natural disasters, conflict, humanitarian aid and reconstruction processes in relation to development.
Measuring Socio-Economic GENDER Inequality: Toward an Alternative to the UNDP Gender-Related Development Index
Dijkstra, A. Geske
Hanmer, Lucia C.
Feminist Economics, Vol. 6 (2000), Iss. 2 P.41
https://doi.org/10.1080/13545700050076106
[Citations: 127]