Book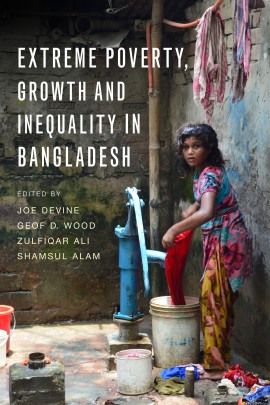 Over the past two decades, Bangladesh has enjoyed impressive economic growth rates and is now poised to become an upper Middle Income Country. Over the same period, the country has made considerable progress in reducing official poverty levels and in meeting its MDG targets. Despite this success, Bangladesh still has a sizeable proportion of its population living in poverty or extreme poverty; and it continues to see levels of inequality steadily rising. Furthermore Bangladesh remains one of the most climate-vulnerable countries in the world, with millions living in low-lying areas at risk from catastrophic flooding.

This book is unique in that it focuses on extreme poverty. It brings together contributions from both academics and policy makers to address fundamental questions such as what difference does it make if we talk of extreme poverty as opposed to other more moderate forms of poverty? Should we define and characterize extreme poverty in terms of per capita income, social exclusion, welfare entitlements, intergenerational transfers, employment opportunities, gender and within household dynamics, spatial variations and mobility? How does a focus on extreme poverty challenge policy making and decisions?
Bangladesh is on the brink of making real and sustainable in-roads on extreme poverty. To achieve this, it will need a new growth path that is more inclusive and redistributive, and will have to introduce innovative policies that are nuanced, blended and sustained. The book draws on empirical data and evidence to identify key priorities that can inform policy able to engage with extreme poverty.

This book is essential reading for policy makers, civil society and donor staff, researchers and students from Bangladesh and beyond who are interested in understanding extreme poverty and how it can be eliminated.
1. Sharing the well: towards sustained eradication of extreme poverty in Bangladesh

Geof Wood and Joe Devine

2. Ending extreme poverty in Bangladesh: trends, drivers, and policies

Binayak Sen and Zulfiqar Ali

3. Leaving no one behind in Bangladesh: the case for a new political settlement

Joe Devine and Geof Wood

4. Guardianship and processes of change: the feminization of extreme poverty in Bangladesh

Mathilde Maîtrot

5. Financial exclusion and extreme poverty in Bangladesh

Mustafa K. Mujeri

6. Dynamics of regional poverty and real wages: policy implications for development interventions

Shamsul Alam and Kazi Iqbal

7. Agricultural commercialization and employment generation: implications for the extreme poor

K.A.S. Murshid

8. Urbanization and extreme poverty

Nazrul Islam

9. Reforming the social security system for poverty reduction

Sadiq Ahmed

10. Conclusion: sharing the well

Zulfiqar Ali and Geof Wood

Index
Joe Devine Joe Devine is Head of Department, Social and Policy Sciences, University of Bath
Geof D. Wood Geof D. Wood, is Emeritus Professor of International Development, University of Bath
Zulfiqar Ali Zulfiqar Ali is Senior Research Fellow, Bangladesh Institute of Development Studies
Shamsul Alam Shamsul Alam is Senior Secretary, General Economics Division of the Planning Commission, Government of Bangladesh.