Book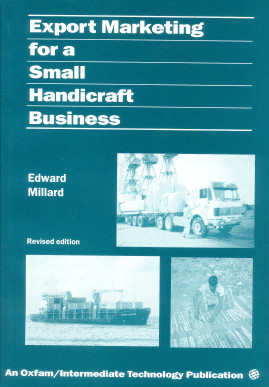 Export Marketing for a Small Handicraft Business
Published: 1996
Pages: 192

eBook: 9781780442129
Paperback: 9781853393525
Written in plain, jargon-free language, this book provides vital information to help producers export more effectively. Keeping the perspective and situation of small-scale exporters in mind, it covers every aspect of exporting that it is important to know.
Edward Millard
Millard leads the capacity building and partner development work that facilitates application by farmers of the best management practices of Sustainable Agriculture Network (SAN) standards. He was a business development manager for Oxfam Fair Trade for 14 years and Conservation International for 11 years. In both roles, he spent extensive time in Africa, Asia and Latin America supporting small-scale producers to improve their competitiveness and open new markets
Performance Factors of Peace Corps Handcraft Enterprises as Indicators of Income Generation and Sustainability
Durham, Deborah E.
Littrell, Mary A.
Clothing and Textiles Research Journal, Vol. 18 (2000), Iss. 4 P.260
https://doi.org/10.1177/0887302X0001800405
[Citations: 7]