Book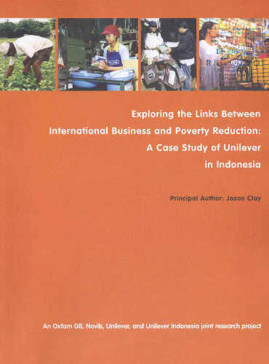 Exploring the Links Between International Business and Poverty Reduction
Published: 2005
Pages: 124

Paperback: 9780855985660
Foreign direct investment is recognised to be important for economic development, in terms of wealth creation, employment, skills development, and technology transfer. But there is an on-going debate about the extent to which these contributions translate into real benefits for people living in poverty. In an attempt to evaluate the impacts of international business on people living in poverty, two organisations with very different aims and perspectives - Unilever (a major company operating in some of the poorest countries in the world) and Oxfam (an international development and humanitarian organisation) - collaborated on an ambitious research project. The research considered the impacts of Unilever Indonesia across the entire business value chain, from producers and suppliers, through the company's core business operations, to its distributors, retailers, and consumers. This report presents the findings of the research. It is a contribution to the debates among the wider business community, governments, civil-society organisations, and academics who seek to understand how the wealth, employment, and products that a large company creates could bring increased benefits to people living in poverty.
Acroynyms and abbreviations

Foreword: Oxfam

Foreword: Unilever

Executive summary

1 Introduction

Why Oxfam and Unilever began this project

What is this research about?

Methodology

The context of the research project

Assessing the impact of Unilever Indonesia

2 The impacts of Unilever Indonesia at the macro-economic level

Setting the context: the 1997-98 financial crisis

Unilever's organisation and recent performance in Indonesia

UI's response to the financial crisis

Key insights

3 The employment impacts of Unilever Indonesia

Employment in Indonesia

UI's employment impacts

Key insights

4 The value chain from supply to distribution

Supplier companies

Producers of raw materials

Kecap Bango Sweet Soy Sauce: from farm to fork

The distribution chain

Supporting employment and value generation in UI's value chain

Key insights

5 Low-income consumers in the marketplace

The fast-moving consumer-goods (FMCG) market in Indonesia

What exactly does UI sell?

Who buys UI products?

Access to UI products

Why do people buy UI products? The concept of brands

The role of promotion and advertising

Meeting or creating needs?

Key insights

6 UI's wider impact in the community

Corporate community involvement

UI's influence on the business sector and government

Key insights

7 Conclusions

Content: lessons learned from the research project

Process and partnership: lessons learned from working together

Feedback from external reference group

The way forward

Notes

References and sources

Appendices
This report will be at the vanguard of partnership and learning between a compnay and an NGO. Oxfam and Unilever are still different - and these differences are not negative: action learning is not necessarily about agreeing. The point of learning is understanding differences, and there is no progress without learning. Gilbert Lenssen, President, European Academy of Business in Society.

Jason Clay
Jason Clay is a leader within WWF and the NGO community more broadly on identifying global trends and issues as well as supply chain management. He has co-convened multi-stakeholder roundtables to identify and reduce the social and environmental impacts of such products as salmon, soy, sugarcane, and cotton and helped draft the RSPO principles and criteria for sustainable palm oil.