Book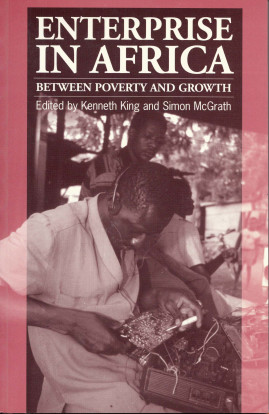 Enterprise in Africa
Between poverty and growth
Published: 1999
Pages: 256

eBook: 9781780440774
Paperback: 9781853394782
Internationally, donors are increasing their emphasis on poverty-focused policies and on the notion of pro-poor growth. Attempts to reformulate policies and reshape practices so that they rework the balance between a focus on poverty and a focus on growth bring small and microenterprises on to the centre stage of development debates. Yet these enterprises are seen, variously, as engines of growth, as refuges for the poor, and as signs of economic failure. This book is concerned to revisit key elements of the debate about small and microenterprises through the lens of the current poverty-growth debate and in the specific context of Africa. Leading practitioners, academics and policymakers examine the evidence from across a range of disciplines to ask a series of crucial questions: * Is the macroeconomic climate a break on small enterprise development? * Are small enterprises, and policies and programmes to support them, succeeding? * Does education make a difference to enterprise performance?
FOREWORD by George Foulkes

PREFACE

AUTHORS' BIOGRAPHIES

v

vii

. . .

Vlll

Introduction 1

Enterprise in Africa: new contexts; renewed challenges 1

SIMON McGRATH AND KENNETH KING

PART 1 Micro-enterprises, Macro-perspectives 13

1 Have Africa's economies turned the corner? 13

TONY KILLICK

2 Developmental states and small enterprises 3 3

THANDIKA MKANDA WIRE

3 Gender, property rights and trade: constraints to Africa growth 48

SUSAN JOEKES

PART 2 Small and Micro-enterprises and the Development Agenda 61

4 MSEs tackle both poverty and growth (but in differing

proportions) 61

DONALD C. MEAD

5 Micro-enterprises in West Africa 7 1

JACQUES CHARMES

6 Small enterprise development in post-apartheid South Africa 83

CHRISTIAN M. ROGERSON

7 Inherent gender inequities in small and micro-enterprise

development in rural Africa 9 5

FRA VON MASS0 W

8 Enterprise development in Africa: strategies for impact

and growth 107

GEORGE MANU

PART 3 Collaboration Between Enterprises 121

9 Do SMEs network for growth? 121

ABIGAIL BA RR

i0 Enterprise clusters in Africa: linkages for growth and

development 132

DOROTHY McCORMlCK

11 Trading agents and other producer services in African

industrialization and globalization 1 44

POUL OVE PEDERSEN

12 MSE associations and enterprise promotion in Africa 156

HANS CHRISTIAAN HAAN

PART 4 Learning to Grow: SMEs, Skills and Technology 169

13 Technology, NGOs and small enterprise: securing livelihoods

through technical change 169

ANDY JEANS

14 Competences and other factors affecting the small enterprise

sector in Ibadan, Nigeria 179

SUSANNA ADAM

15 Reshaping vocational training: hopeful signs from a Ghanaian

experience 191

LAWRENCE A. HONN Y

16 The role and potential of technical and vocational education

in formal education systems in Africa 202

BONA VENTURE WANJALA KERRE

17 Learning to grow? The importance of education and training

for small and micro-enterprise development 21 1

SIMON McGRATH AND KENNETH KING

BIBLIOGRAPHY 223
Kenneth King Kenneth King is Director of the Centre of African Studies and Professor of International and Comparative Education at the University of Edinburgh. He has worked for many years on international education and training, the African small enterprise sector and aid policy.
The 'new generation of African entrepreneurs': networking to change the climate for business and private sector-led development
McDade, Barbara E.
Spring, Anita
Entrepreneurship & Regional Development, Vol. 17 (2005), Iss. 1 P.17
https://doi.org/10.1080/0898562042000310714
[Citations: 90]
The contribution of business incubators and technology stations to small enterprise development in South Africa
Ndabeni, Lindile L
Development Southern Africa, Vol. 25 (2008), Iss. 3 P.259
https://doi.org/10.1080/03768350802212022
[Citations: 22]
In search of the African miracle: debates on successful small enterprise development in Africa
Rogerson, C.M
Habitat International, Vol. 25 (2001), Iss. 1 P.115
https://doi.org/10.1016/S0197-3975(00)00033-3
[Citations: 40]
Women entrepreneurs in sub-Saharan Africa: An institutional theory analysis from a social marketing point of view
Amine, Lyn S.
Staub, Karin M.
Entrepreneurship & Regional Development, Vol. 21 (2009), Iss. 2 P.183
https://doi.org/10.1080/08985620802182144
[Citations: 134]
Small clothing manufacturers in the Johannesburg inner city
Kesper, Anna P.
Urban Forum, Vol. 10 (1999), Iss. 2 P.137
https://doi.org/10.1007/BF03036616
[Citations: 11]
Insecurity and Welfare Regimes in Asia, Africa and Latin America
Gough, Ian
Wood, Geof
Barrientos, Armando
Bevan, Philippa
Davis, Peter
Room, Graham
2004
https://doi.org/10.1017/CBO9780511720239
[Citations: 193]
Advances in Human Factors, Sustainable Urban Planning and Infrastructure
An Investigation of Government Support Influence on Low-Income Housing Construction Quality in South Africa
Eke, Chikezie
Akidi, Grace
Aigbavboa, Clinton
Thwala, Wellington
2019
https://doi.org/10.1007/978-3-319-94199-8_44
[Citations: 0]
Small firm exporters in a developing economy context: evidence from Ghana
Robson, Paul J. A.
Freel, Mark
Entrepreneurship & Regional Development, Vol. 20 (2008), Iss. 5 P.431
https://doi.org/10.1080/08985620801919157
[Citations: 20]
Redefining Entrepreneurial Learning Paradigms in Developing Countries
Owusu-Manu, D.
Afrane, S.K.
Badu, E.
Edwards, D.J.
Brown, M.
Industry and Higher Education, Vol. 27 (2013), Iss. 2 P.105
https://doi.org/10.5367/ihe.2013.0146
[Citations: 4]
ENTREMPLOYEES AS A TYPE OF HYBRID ENTREPRENEUR: A THEORETICAL EXPLANATION OF HOW THE ENVIRONMENT SHAPES ENTREPRENEURS
CHAKUZIRA, WELLINGTON
SHAMBARE, RICHARD
Journal of Developmental Entrepreneurship, Vol. 26 (2021), Iss. 03
https://doi.org/10.1142/S1084946721500205
[Citations: 0]
Enterprise Development in SMEs and Entrepreneurial Firms
Access to Micro Enterprise Financing in Nigeria
Woldie, Atsede
Nzekwu, John C.
Thomas, Brychan C.
2013
https://doi.org/10.4018/978-1-4666-2952-3.ch017
[Citations: 0]
Institutional Support for Collective Learning: Cluster Development in Kenya and Ghana
Oyelaran-Oyeyinka, Banji
Lal, Kaushalesh
African Development Review, Vol. 18 (2006), Iss. 2 P.258
https://doi.org/10.1111/j.1467-8268.2006.00142.x
[Citations: 5]
Crossing conceptual boundaries: re-envisioning coordination and collaboration among women for sustainable livelihoods in Ghana
Oteng-Ababio, Martin
Local Environment, Vol. 23 (2018), Iss. 3 P.316
https://doi.org/10.1080/13549839.2017.1418847
[Citations: 7]
Technology Support for Small-scale Industry in Developing Countries: A Review of Concepts and Project Practices
Romijn, Henny
Oxford Development Studies, Vol. 29 (2001), Iss. 1 P.57
https://doi.org/10.1080/13600810124790
[Citations: 10]
'Skills for productive citizenship for all': the place of skills development for micro and small enterprises in South Africa 1
McGrath, Simon
Journal of Education and Work, Vol. 18 (2005), Iss. 1 P.111
https://doi.org/10.1080/1363908052000332339
[Citations: 7]
Growing the SMME Manufacturing Economy of South Africa: Evidence from Gauteng Province
Rogerson, Christian M.
Journal of Contemporary African Studies, Vol. 19 (2001), Iss. 2 P.267
https://doi.org/10.1080/02589000120066498
[Citations: 10]
Enterprise training in post‐apartheid South Africa
Badroodien, Azeem
Journal of Education and Work, Vol. 18 (2005), Iss. 1 P.85
https://doi.org/10.1080/1363908052000332320
[Citations: 3]
Financing small and medium-scale contractors in developing countries: a Ghana case study
Eyiah, Alex K.
Cook, Paul
Construction Management and Economics, Vol. 21 (2003), Iss. 4 P.357
https://doi.org/10.1080/0144619032000111241
[Citations: 33]