Book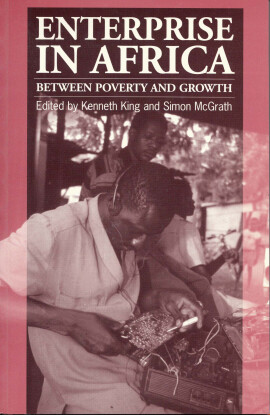 Enterprise in Africa
Between poverty and growth
Published: 1999
Pages: 256

eBook: 9781780440774
Paperback: 9781853394782
Internationally, donors are increasing their emphasis on poverty-focused policies and on the notion of pro-poor growth. Attempts to reformulate policies and reshape practices so that they rework the balance between a focus on poverty and a focus on growth bring small and microenterprises on to the centre stage of development debates. Yet these enterprises are seen, variously, as engines of growth, as refuges for the poor, and as signs of economic failure. This book is concerned to revisit key elements of the debate about small and microenterprises through the lens of the current poverty-growth debate and in the specific context of Africa. Leading practitioners, academics and policymakers examine the evidence from across a range of disciplines to ask a series of crucial questions: * Is the macroeconomic climate a break on small enterprise development? * Are small enterprises, and policies and programmes to support them, succeeding? * Does education make a difference to enterprise performance?
FOREWORD by George Foulkes
PREFACE
AUTHORS' BIOGRAPHIES
v
vii
. . .
Vlll
Introduction 1
Enterprise in Africa: new contexts; renewed challenges 1
SIMON McGRATH AND KENNETH KING
PART 1 Micro-enterprises, Macro-perspectives 13
1 Have Africa's economies turned the corner? 13
TONY KILLICK
2 Developmental states and small enterprises 3 3
THANDIKA MKANDA WIRE
3 Gender, property rights and trade: constraints to Africa growth 48
SUSAN JOEKES
PART 2 Small and Micro-enterprises and the Development Agenda 61
4 MSEs tackle both poverty and growth (but in differing
proportions) 61
DONALD C. MEAD
5 Micro-enterprises in West Africa 7 1
JACQUES CHARMES
6 Small enterprise development in post-apartheid South Africa 83
CHRISTIAN M. ROGERSON
7 Inherent gender inequities in small and micro-enterprise
development in rural Africa 9 5
FRA VON MASS0 W
8 Enterprise development in Africa: strategies for impact
and growth 107
GEORGE MANU
PART 3 Collaboration Between Enterprises 121
9 Do SMEs network for growth? 121
ABIGAIL BA RR
i0 Enterprise clusters in Africa: linkages for growth and
development 132
DOROTHY McCORMlCK
11 Trading agents and other producer services in African
industrialization and globalization 1 44
POUL OVE PEDERSEN
12 MSE associations and enterprise promotion in Africa 156
HANS CHRISTIAAN HAAN
PART 4 Learning to Grow: SMEs, Skills and Technology 169
13 Technology, NGOs and small enterprise: securing livelihoods
through technical change 169
ANDY JEANS
14 Competences and other factors affecting the small enterprise
sector in Ibadan, Nigeria 179
SUSANNA ADAM
15 Reshaping vocational training: hopeful signs from a Ghanaian
experience 191
LAWRENCE A. HONN Y
16 The role and potential of technical and vocational education
in formal education systems in Africa 202
BONA VENTURE WANJALA KERRE
17 Learning to grow? The importance of education and training
for small and micro-enterprise development 21 1
SIMON McGRATH AND KENNETH KING
BIBLIOGRAPHY 223

Kenneth King Kenneth King is Director of the Centre of African Studies and Professor of International and Comparative Education at the University of Edinburgh. He has worked for many years on international education and training, the African small enterprise sector and aid policy.